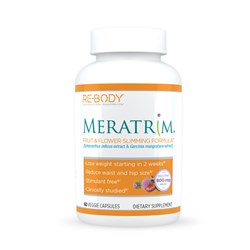 Gainesville, Fla (PRWEB) February 13, 2014
RE-BODY®, a market leader in healthy weight management supplements, has launched RE-BODY Fruit & Flower Slimming Formula™ with Meratrim®, the newest addition to the brand's already dynamic product line.
RE-BODY Fruit & Flower Slimming Formula is non-stimulant and features pure Meratrim, a blend of plant extracts derived from Sphaeranthus indicus (flower heads) and Garcinia mangostana (extracts of the fruit rind), without the use of other dietary ingredients.
The product offers 800 mg per day, the same amount tested in clinical studies, which is shown to help with weight loss. The double blind, placebo-controlled studies showed, at the end of 8 weeks, participants taking Meratrim lost an additional 8.3 lbs. compared to those in the placebo group.
The Meratrim group also lost an additional 2.32 inches from the waist and 1.25 inches from the hips, compared to participants in the placebo group. The study was conducted in India on adults with an average BMI of 34 and between the ages of 21-50 years old. Study participants took Meratrim twice daily, consumed a prescribed 2,000 calorie-per-day diet and walked 30 minutes per day 5 day a week.
"The findings for Meratrim are very exciting," said Dr. Heather Hausenblas, scientific advisor for RE-BODY. "It shows that as part of a reduced-calorie diet, exercise and Meratrim can help people start achieving their weight loss goals."
RE-BODY Fruit & Flower Slimming Formula with Meratrim is available at The Vitamin Shoppe, GNC, Whole Foods Market, Vitamin World and other fine retailers, and online at http://www.myrebody.com.
About RE-BODY
RE-BODY® is dedicated to developing scientifically based, nutritional and weight management supplements that help support health and wellness. RE-BODY takes a healthy, scientifically studied approach to lasting body transformation.