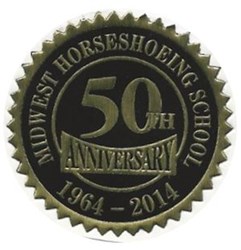 Having known Diego as a devoted student and to now work alongside him as peers is an honor and privilege. His instruction has improved the quality of education at Midwest Horseshoeing School
Divernon, IL (PRWEB) February 13, 2014
Midwest Horseshoeing School is proud to announce that its instructor Diego Almeida, CJF, was selected as the recipient of the 2014 International Hoof Care Summit's Rising Star award. It is an honor to receive this award that recognizes not only the recipient's personal horseshoeing achievements, but his or her future promise as well. A large part of the prestige associated with this designation is that the winners are chosen by a panel of peers based on an essay submitted by another farrier that described why this recognition is warranted.
Originally from Brazil, Almeida has been involved with horses since he was a boy. While he trained and competed in jumping and dressage, farriery was not a career aspiration. Horseshoeing did not enter the picture until Almeida decided to leave a career as a software engineer to pursue a degree in jazz guitar at a United States college. It was during this time, while working as a trail riding guide, Diego decide to pursue farriery.
A graduate of Midwest Horseshoeing School, Diego clearly held the top spot in his class. He was the first to arrive and the last to leave, pushing himself beyond the expectations of his instructors. It was this drive and ambition that brought him to the attention of instructors, Steve Hedges and Steve Sermersheim.
Upon graduation, Almeida was selected to apprentice in Sermersheim's multi-farrier practice. He was able to expand his knowledge of sound shoeing practices, as well as forging techniques. It was also under this tutelage that Diego completed both his American Farriers Association Certified and Certified Journeyman Farrier designations in just over one year. Obtaining these certifications so rapidly upon graduation was a great accomplishment.
Almeida is an AFA approved tester and is involved in certifications across the nation. In addition, he competes in horseshoeing contests, having quickly 'high pointed' his way into open classes. A member of Lincoln Land Horseshoeing Association and Indiana Farriers Association, Almeida actively supports these organizations through participation in scheduled meetings and certifications.
Now a member of the Midwest Horseshoeing School staff, Diego joins Steve Hedges, CJF TE, as its second instructor to receive this prestigious award. Diego's dynamic personality coupled with his knowledge of farriery make him a valuable addition to the MHS team, says Steve Hedges.
"Having known Diego as a devoted student and to now work alongside him as peers is an honor and privilege. His instruction has improved the quality of education at Midwest Horseshoeing School," Hedges said.
About Midwest Horseshoeing School
The Midwest Horseshoeing School was established in 1964 because of the demand for skilled, competent, well-educated horseshoers. Through the years Midwest Horseshoeing School has met the challenge of this growing trade by continually graduating seasoned professionals. Midwest Horseshoeing School is located just 10 miles south of Springfield Illinois, in the rich prairie region of central Illinois - the heart of the Midwest. Through the years students have come to Midwest Horseshoeing School from all over the United States to learn the trade of horseshoeing.
For more information, visit: http://www.midwesthorseshoeingschool.com/.