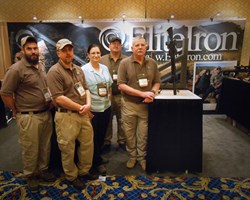 For the annual SHOT Show in Las Vegas, EliteIron arrived locked and loaded with innovative products, updates, accessories, and customer programs for 2014.
Potomac, Montana (PRWEB) February 17, 2014
For the annual NSSF firearms industry convention at the Sands Expo Center in Las Vegas, EliteIron arrived locked and loaded with innovative products, updates, accessories, and customer programs for 2014. The annual SHOT Show, held this year from January 14th through 17th, provided lots of excitement and record-breaking attendance for dealers, manufacturers, and the media, particularly in the tactical weapons and equipment segment. EliteIron's Dale and Kathy Poling were present and accounted for along with employees and representatives to meet and greet military, law enforcement, and other buyers looking for new ways to enhance their tactical weapon systems and suppressor solutions capabilities.
Some features of the presentation at the EliteIron booth included updates to the REVOLUTION BIPOD introduced at last year's SHOT show. The latest version of the bipod now incorporates fluted grip channels along the sides of the legs for better purchase while placing or extending the bipod legs. Also available is a choice of interchangeable legs and leg extensions to meet mission requirements and special situations. A re-designed tri-spoke thumb retention screw allows for better grip - especially with gloves - while tightening the screw to lock the bipod in place. A new serrated edge has been added on the face of the bipod that can be used for additional traction when using it without the legs against a door frame or other edged support surface. EliteIron has also designed a wider range of mounts so the REVOLUTION BIPOD can now fit almost any tactical rifle.
This year, EliteIron new products were not limited to just the REVOLUTION BIPOD or their signature suppressors. Examples of other developments from in-house research and development, field-testing, and feedback from customers and experts produced additional new products. Dale Poling commented on these in one interview with the trade media, "We've created a new OP-Comp AR15/M16 and new .50 caliber compensators that not only tame recoil but tighten groups significantly. We have installed more manufacturing capacity to increase volume and maintain our high standards of quality control. And we've brought more talent on board to better serve our customers."
Kathy Poling added, "From a marketing perspective, we've doubled our SHOT Show display space to accommodate more visitors and provide more products and demonstrations of what we do. We also have added a new look to our booth that illustrates our expertise as well as growth in many new product areas. And in 2014, we are expanding our communications efforts to include social media to better stay in touch with our customers and the marketplace."
EliteIron LLC is a designer and manufacturer of weapon systems and sound suppressor solutions headquartered in Potomac, Montana. The company serves serious marksmen who require the highest caliber of performance in military, law enforcement, competitive shooting, and hunting applications. For more information, visit EliteIron at http://www.eliteiron.com. To contact EliteIron, call 406-244-0234 or send e-mail to info(at)eliteiron(dot)com.