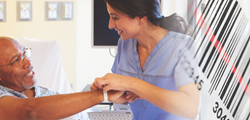 (PRWEB) February 13, 2014
Voalte, the leader in healthcare communication technology, today released its latest white paper, "EMR and BCMA: 5 Steps to Extend Your Smartphones' Reach," which introduces the concept of a comprehensive Mobile Communication Strategy and discusses the impact of a fully integrated care system.
As hospitals reevaluate their technical infrastructure to meet Meaningful Use requirements, many are providing staff with "assistive technologies" such as smartphones or barcode scanners to optimize workflow. The white paper discusses how the combination of these technologies can maximize efficiency and improve care coordination between clinical staff.
The white paper also notes that smartphones allow clinicians to access patient records or scan the barcode on a patient's wristband to reduce medication administration errors. This type of integration, paired with several key factors, is crucial to developing a successful Mobile Communication Strategy. The white paper highlights the following five critical steps:
1. Prepare the hospital's infrastructure to accommodate mobile device traffic.
2. Ensure the protection and security of patient health information.
3. Offer staff training and support for a smooth change in workflow.
4. Develop a plan to charge, carry and maintain hospital-issued smartphones.
5. Manage smartphones using a mobile device management solution.
According to the white paper, EMR and BCMA are critical components within the Mobile Communication Strategy, which can help reduce medical errors, increase patient safety and improve the overall quality of care.
To download the full white paper, visit the Voalte white paper library.
About Voalte
Voalte is the only company to provide a fully integrated and dependable clinical communication system that healthcare professionals want, enjoy and effectively use. Voalte products are designed to be intuitive, high-value, mission-critical applications running on the latest generation of touch-based smartphones. For more information, visit http://www.Voalte.com or call 941.312.2830.