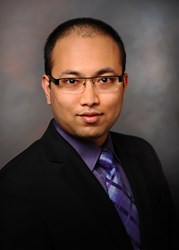 (PRWEB) February 13, 2014
Sahas Shrestha initially joined Fenstermaker's Lafayette team as an Engineering Aide in February 2011. Exactly one year later, he earned the professional designation of Engineer-in-Training from the National Council of Examiners for Engineering and Surveying (NCEES) and was advanced to an Engineering Intern (E.I.) at the company. Since then, he has gone on to celebrate two major professional benchmarks in 2013. Mr. Shrestha moved to Houston last March to help advance the company's engineering services in the area, and that December, he fulfilled all requirements to earn his Professional Engineer (P.E.) license in the State of Texas.
Originally from Nepal, Mr. Shrestha received a B.S. in Civil Engineering from the Institute of Engineering, Pulchowk Campus, in 2008. Two years later, he completed his Masters in the same subject from the University of Louisiana at Lafayette (UL). Upon arriving at Fenstermaker, he joined the Hydrologic & Hydraulic (H&H) team modeling for FEMA floodplain mapping projects. During that time, he developed experience interpreting results of numerical models and performing engineering calculations related to water resources.
Additionally, Mr. Shrestha focused on creating maps to visualize technical data, making design recommendations, performing site inspections, and taking measurements for flood studies and model verification. While building his H&H expertise, he became proficient in different computer software and design tools that allowed him to create maps, write technical reports, manage project budgets, and provide design analysis. While still in Lafayette, he began transitioning into project management and leadership roles, acting as the direct supervisor to a rising E.I. before transferring to the Houston location.
Since becoming a registered P.E. in the State of Texas, Mr. Shrestha's goals include diversifying his engineering expertise by overseeing various projects, strengthening client relationships, and supporting the Houston team. In a strategic effort to expand Fenstermaker's engineering services in Texas, Mr. Shrestha's H&H expertise and extensive project experience will serve as a major benefit to energy and engineering projects in the area. He has already begun work on different oil & gas flood hazard assessments and FEMA permitting. This year, he will continue to grow his resume to include pipeline work.
*Fenstermaker is a multi-disciplinary firm specializing in Survey & Mapping, Engineering, Environmental Consulting, and Advanced Technologies. We have over 300 team members providing professional services through multiple office and field locations across the U.S. Our company mission is to be a vital partner in the success of our clients.