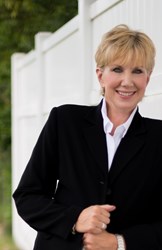 Nashville, TN (PRWEB) February 14, 2014
"Psycho Kitty" has already been an international hit in its first season in Canada, airing on Nat Geo Wild and in Italy on Sky Uno. Pam Johnson-Bennett teaches cat owners how to do what many think is impossible... train their misbehaving cats! Meet Lukey... this cat has a voracious appetite for his owner's sweaters and fights with his sister every day. Seamus is so terrified of his carrier that he poops the second he's put in it. Let's not forget Ricky... this feisty feline lives on a small boat and hates one of his owners. Pam's techniques bring about huge changes, happy cats, happy owners and the camera captures it all. "It's important to understand that however crazy the behavior may seem to us, it always makes sense to the cat," Johnson-Bennett says.
Johnson-Bennett, the best-selling author of seven books, including the classic Think Like a Cat (Penguin Books 2011) is considered a pioneer in the field of cat behavior consulting, having started her practice in 1982. Her ground-breaking techniques have earned her millions of fans worldwide and the title "queen of cat behavior."
Johnson-Bennett is a certified cat behavior consultant and over the last 30 years has become one of the most cited experts in the field. She's a former VP of the International Association of Animal Behavior Consultants and founder of the IAABC Cat Division. She was a member of the American Humane Association's Advisory Board on Animal Behavior and Training and currently serves on their Forum for Cat Health and Welfare. Pam was the cat behavior columnist for Cats Magazine, iVillage, Yahoo, Shine, Cats Channel, The Daily Cat and Catster. Pam was also the behavior spokesperson for Friskies for a decade as she did many national tours to help educate cat owners on environmental enrichment and training. She led the Friskies Dream Team, along with celebrity designer Frank Bielec and the Today Show's Lou Manfredini in creating and unveiling the Ultimate Cat Habitat. She and country superstar LeAnn Rimes unveiled to national media a state-of-the-art cageless shelter at Northshore Animal League America. Pam was also the spokesperson for the Friskies Shelter Program that awarded grants to in-need shelters across the USA. Most Recently, she was the spokesperson for the Friskies Playhouse to help showcase cats in need of adoption in the Los Angeles area.
Psycho Kitty premieres February 25, 2014 at 8pm on Animal Planet UK.