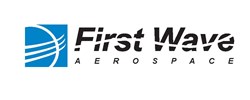 Asia Pacific will far surpass Western markets
Tulsa OK (PRWEB) February 13, 2014
Commercial aircraft parts distributor First Wave Aerospace has representation this week at the Singapore Air Show 2014 for the first time in several years as the company continues implementation of a new strategic sales plan.
The Singapore Air Show, Feb. 10 -16, 2014, is one of the largest in the world, with over 1,000 aerospace Companies in attendance; 270 delegations from over 70 countries; many strategic, high level conferences and large static displays and aircraft fly overs.
Tony McAnly, President, First Wave Aerospace, said the Asia Pacific market is one of the fastest growing and his firm's leading international market and representation at the Singapore Air Show was a "must" for First Wave.
"Asia-Pacific is one of the fastest growing aerospace and defense markets. There's strong demand for new aircraft, spare parts and repair management," McAnly said. "Today, Asia-Pacific is on par with North America and Europe in terms of revenue passenger miles. However, by 2032 Asia-Pacific is likely to be as much as 50 percent greater than these established markets."
Tim White, Vice President Inventory Development, First Wave Aerospace noted that Aviation Week's biennial airframe survey last June, 2013, showed the #1, #2, #4 and #8 Maintenance, Repair and Overhaul (MRO) centers in terms of man hours are located in the Asia Pacific region and the top ones are also First Wave's largest Customers. "When it comes to Asia-Pacific Aerospace, First Wave is firmly on the ground floor of the region that will far surpass the Western markets in the future."
First Wave Aerospace has an authorized Representative Office in Singapore and is currently exploring avenues to delivering more services from that location to provide even greater access to that strategically important market.
"We are becoming a key supplier and a leader in the Asia-Pacific Aftermarket and to maintain that position we must increase our access there 24x7, as well as having dedicated account reps and buyers for Asian Pacific Accounts in First Wave's U.S. office," according to Glen Hyden, Vice President & General Manager of First Wave Aerospace. "We have the right representation from career aerospace professionals from that region; the right products and commitment to quality service to supply aerospace parts from a FAA AC00 56 accredited system."
First Wave Aerospace is one of the largest commercial aerospace parts distributors in the Americas with 248,000 line items and a current inventory of 6.8 million parts in warehouse in Tulsa, OK USA. It has representative offices in Singapore, Jordan and a soon to be announced European location.