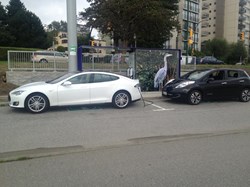 SemaConnect's electric vehicle charging stations and management software are the perfect fit for municipalities.
Bowie, MD (PRWEB) February 14, 2014
SemaConnect, Inc. announced today that they were chosen by the City of Vancouver to be a part of their Public Green Kiosk Program. The electric vehicle charging stations are part of the city's long-term strategy to support EV adoption as a lower emission vehicle option.
Officials estimate that 50,000 electric vehicles could be on the roads in Vancouver in less than 10 years and the City is moving forward on preparing to meet the growing need. The new charging stations will make it convenient for residents and tourists to enjoy all that the City has to offer, while enjoying the convenience of charging up their electric vehicle.
"The City of Vancouver has made tremendous strides to become a green city and we are pleased to work with them on offering electric vehicle charging stations to make it easy for electric vehicle drivers to recharge," said Mark Pastrone, VP of Business Development at SemaConnect. "We're committed to building the best electric vehicle charging stations and software on the market for commercial use and we look forward to partnering with more locations in Canada and the United States to continue building the electric infrastructure that has become a growing demand."
The City's Greenest City 2020 is a bold initiative that will address Vancouver's environmental challenges. Through a set of measurable and attainable targets, officials are working to put the city on the path to sustainability, and make them one of the greenest cities in the world by 2020. Providing electric vehicle charging stations moves them toward that goal.
SemaConnect's networked electric vehicle charging stations and web-based management software makes it easy for station owners to deploy at their properties. The stations are sophisticated networked Level II (240Volts, 30Amps) commercial grade and comes bundled with SemaCharge, a web-based management software that station owners can:

Manage time-of-use pricing with built-in payment gateway
Run sustainability reports on fossil fuel and CO2 emissions
See real-time electricity metering
Manage electric vehicle driver usage
More (Click here)
For EV drivers, SemaConnect has an iPhone and Android smart phone app that allows them to manage their charging sessions, search for more stations, and to manage their account. SemaConnect has also partnered with Recargo on their PlugShare app, the most widely used application for electric vehicle drivers, which allows them to start a charging session right from the PlugShare app for more convenience.
To learn more about SemaConnect, or to purchase a charging station at your location, visit http://www.semaconnect.com or call 1-800-663-5633.
To download the iPhone app: https://itunes.apple.com/us/app/semaconnect/id471861561?mt=8.
To download the Android app: http://android.downloadatoz.com/apps/com.semaconnect,445945.html.
About SemaConnect
SemaConnect is the leading provider of electric vehicle charging solutions and sophisticated software for station owners and electric vehicle drivers. SemaConnect's ChargePro charging stations are wirelessly networked on their SemaCharge Network and offer advanced features such as smart-grid integration, RFID card authentication, sustainability reporting and more. ChargePro stations can be found at municipal, parking multifamily, office, hotel and retail locations nationwide. Visit http://www.semaconnect.com to learn more about owning, managing or using a ChargePro.
About City of Vancouver
With its scenic views, mild climate, and friendly people, Vancouver is known around the world as one of the best places to live and is a popular tourist attraction. Vancouver is also one of the most ethnically and linguistically diverse cities in Canada with 52% of the population speaking a first language other than English. Consistently named one of the world's most liveable cities,
Vancouver regularly ranks among the top cities world-wide in annual quality-of-life surveys.
SemaConnect Contact:
Amber Perry - Marketing Specialist
amber(dot)perry(at)semaconnect(dot)com
301-352-3730, ext. 224
# # #