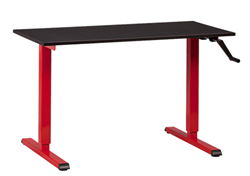 Height adjustable tables offer a convenient, affordable solution to the problem of spending too much time sitting.
Phoenix, AZ (PRWEB) February 14, 2014
Multitable.com is making Valentine's Day gift decisions much easier. With a serendipitous 14% discount, this Valentine's Day promotion means clients can give the gift of good health and comfort at an even better price. Until February 17, MultiTable.com will take 14% off its height adjustable desk or table orders, excluding treadmills.
The data is difficult to ignore. People spend too much time sitting; as a culture sitting in front of computer desks at work, plopping down on the couch at home to watch TV, and staying up late on social media websites. All this sitting has a number of significant adverse health effects, most importantly on the strength of the heart and the resilience of the cardiovascular system. Secondary complications with the neck, shoulders, back, and spine also cause untold amounts of discomfort and mobility problems.
Height adjustable tables offer a convenient, affordable solution to the problem of spending too much time sitting. When it's easy to move from a seated to standing position at work or home while doing anything that requires a desk or table, people are more likely to actually make the change. And this Valentine's Day, adjustable tables from MultiTable.com also offer a savings of $50 or more on one of the most effective ways to improve daily life with energy and renewed physical comfort, not to mention a stronger heart.
The documented benefits of spending some time standing instead of sitting with a convenient adjustable height desk include reduced pain in the neck, shoulders, and upper and lower back, overall increased body comfort, increased energy and focus, up to a 30% reduction in the risk of cancer, up to a 45% reduction in the risk of heart disease, and of course, better posture.
Prolific anecdotal evidence also supports the health and happiness benefits of giving a great Valentine's Day gift. A stronger relationship, a healthier partner, and significantly more positive feelings typically stem from giving thoughtful gifts that increase wellbeing. And lastly, the obvious health benefits of saving money are obvious.
Valentine's Day deals are relatively common, but MultiTable.com wants to focus on long term health instead of splurging for an expensive Prix Fixe meal and they're offering a great discount to help make the smart decision.
About MultiTable.com
Established in 2010, Multitable.com was founded on the goal of making health something we safeguard constantly with less effort, by enabling people to easily spend less time sitting and thus reduce the negative health effects of a sedentary lifestyle. As the leading manufacturer of height adjustable tables and desks for the home and office, Multitable.com has a history of empowering people to integrate periodical periods of standing into their day with affordable, attractive desks and tables.