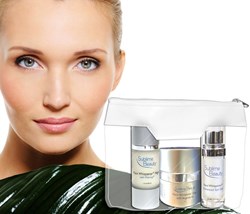 The Face Whisperer® Skincare Set is 15% off at the new SublimeBeautyShop.com store, plus free shipping.
St. Petersburg, FL (PRWEB) February 13, 2014
The Face Whisperer® line is all about helping to improve skin with patented ingredients.
Now three of the popular products can be purchased together in a quality travel case at the new Sublime Beauty store. Purchasers not only get a 15% sales discount, but they get free shipping and VIP Club points, too.
Coupon code LAUNCH15ALL at checkout gets the one-time discount to February 22.
The Face Whisperer® Day cream features Argireline® (the natural botox) to relax wrinkles plus Trylagen® to boost collagen production. The Night cream features Matrixyl®, a peptide that can double collagen production while you sleep. It was featured on TV Consumer NewsWatch, airing on Ion and History Channels.
The Face Whisperer® Advanced Eye Gel includes proven patented ingredients to diminish dark circles and bags under the eyes.
A product report is available on the SublimeBeautyShop product page as well.
A new Sublime Beauty® VIP Club earns points for every purchase for future discounts. Free standard shipping is available on the new store, but for expedited shipping, all Sublime Beauty® products are also available on Amazon.