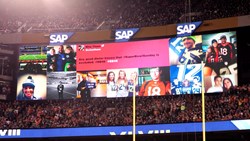 Over 41,000 fan-generated photos and tweets were sent to the platform on game day, with another 9,000 received on Media Day earlier in the week.
Culver City, CA (PRWEB) February 13, 2014
Integrated production and software development company The Famous Group used the world's biggest sports spectacle -- Super Bowl XLVIII -- as a showcase for its new VIXI social entertainment and engagement platform, enabling 83,000 fans in attendance and millions worldwide to share their game day photos and tweets on giant video boards inside and outside the venue before and during the championship contest.
VIXI allowed fans at the game and elsewhere to take photos and send tweets using the #SB48 hashtag and, after a moderation step, have the content displayed on the four 18' x 130' HD LED video boards inside MetLife Stadium and on pylon boards along outside walkways.
A look at VIXI in action is available at here.
(For a complete overview of work done by The Famous Group at Super Bowl XLVIII, please visit our Super Bowl XLVIII project page or watch a behind-the-scenes video featuring all of the firm's work.)
The VIXI platform provided the primary content on the boards from the time gates opened at 2:00 pm until kickoff, with curated fan and league-generated photos and tweets displayed on all stadium boards for the entire four-hour pre-game content block. VIXI received plenty of airtime on Fox during the network's pre-game broadcast and was displayed in-stadium at various points during the game.
This year marked the first time fans at the Super Bowl were woven into the presentation from a social media standpoint and became part of the fabric of the event, having their own images and tweets displayed on the stadium's huge video boards. Over 41,000 fan-generated photos and tweets were sent to the platform on game day, with another 9,000 received on Media Day earlier in the week.
The Famous Group debuted VIXI last year with installations for a range of pro teams including the Atlanta Falcons, Chicago Bears, Dallas Cowboys, New York Giants, Colorado Avalanche, Indiana Pacers and Toronto Blue Jays. VIXI was also featured in the recent Winter X Games, during concerts by Pink and Selena Gomez at Kansas City's Sprint Center, and will be part of this year's NCAA Basketball Final Four in April.
About VIXI
VIXI is a social entertainment platform, currently gaining popularity in sports venues but applicable to any type of social gathering, including concerts, conventions, retail and branded events. It's a unique blend of design and technology, melding high-style graphics, animations and social engagement to help brands entertain fans in new ways and drive ROI by tapping into new sponsorship integration opportunities.
After years of providing sports teams with in-venue entertainment and graphics, and an equal amount of time working with brands and ad agencies on social media and digital executions, The Famous Group noticed a need for social media initiatives during game day presentations. Social media was new terrain for teams, who struggled to find the best ways to involve fans and sponsors.
"We used our team of in-house technologists to bridge this gap and bring together our strengths in creating polished, high-energy graphics with our experience in software development to engage and entertain audiences with VIXI," said Andrew Isaacson, Executive Producer, who heads up the sports and entertainment division for The Famous Group. "Since sports teams have huge in-venue HD boards in their venues and a desire to engage and excite fans, they were the logical first choice for the platform."
Isaacson said VIXI also builds brands by enabling them to insert themselves in the game day social conversation in a manner that doesn't turn off fans, providing a great platform for sponsorship integration. Data also plays an important role with VIXI, as information captured through the platform allows teams and sponsors to better communicate with fans throughout the season.
VIXI taps into many social APIs including Twitter and Instagram to pull in hashtagged social content, and can be connected to any form of display, from an in-stadium Jumbotron to a portable mall kiosk. Fan-generated photos and tweets are moderated in real time using the platform's robust content management system. Once approved, the content is pushed live to the display boards.
VIXI is infinitely customizable on the display side, offering content that can be visualized in many interesting ways beyond the grid, and is optimized to work on-the-fly on any size or type of screen.
The platform offers a suite of software applications. VIXI Live was used at Super Bowl XLVIII to display social content on video boards. Also available are VIXI Web, which enables social content to live on after a game or event on social properties such as Facebook (as a tab app on the web or a canvas app for mobile) or a team website, and VIXI Active, which hooks a display wall to a gesture motion device such as Microsoft Kinect and lets users interact with the wall through the motion of their hands and arms.
The Famous Group is uniquely positioned to offer the new platform. The company is well-versed in using digital technology and social media to engage audiences, and has produced numerous award-winning broadcast ads and integrated web projects for ad agencies and brands. The Famous Group is built around a premium model, providing clients with top-tier design, technology and service.
"VIXI was designed to be a premium, dynamic platform that's fun and engaging for fans," explained Greg Harvey, Executive Creative Director and Founder, The Famous Group. "But it also serves as a platform for additional revenue for our clients. Teams have interest in new technologies but won't typically invest unless ROI is built in, including advertising, sponsorships and promotions. VIXI was developed with that in mind."
For years, the company has created successful digital work that put consumers at the center of promotions by using social media and produced content to personalize digital experiences. "Now we're able to make that happen in the real world with the VIXI platform, providing marketing and revenue-generating opportunities for brands and real value for the fans," said Harvey.
VIXI was just one element of The Famous Group's work at Super Bowl XLVIII. They also created the game brand guide, including speed elements dictating the premium, high-gloss design style used in all official signage. The firm provided all in-stadium graphics including player head shots and prompts, developed a series of :30 "Together We Make Super Bowl" NFL content films produced in real time and displayed on stadium video boards during the game, and used its Stats-In-A-Box statistics system, providing fans with real-time fantasy football stats displayed on MetLife Stadium boards during the game.
The firm was also active on the floor of Media Day earlier in the week, getting viral press coverage for it's customized Novo 2K POV mini-cam used by players and media on hand.
More than a decade of strong sports experience
In addition handling in-stadium content for the last eight Super Bowls and numerous NHL All-Star Games, The Famous Group has a long track record of creating in-stadium, broadcast and digital work for dozens of NFL, NBA, NHL and MLB teams. Other recent sports work includes Draft Day events with the NFL and Nike, video and in-stadium content for a number of New York area teams (New York Giants, New York Jets, New York Knicks, New York Rangers, Brooklyn Nets and New Jersey Devils), pre-game films the Houston Texans, St. Louis Rams and many others.
Credits:
Client: NFL
Campaign: VIXI social entertainment platform at Super Bowl XLVIII
NFL Senior Vice President, Events: Frank Supovitz
NFL Director, Event Presentation: Sammy Choi
Production Company: The Famous Group, Culver City, CA, New York, NY
Executive Creative Director: Greg Harvey
Executive Producer: Andrew Isaacson
Creative Director: Hemu Karadkar
Managing Director: David Kwan
Experiential Producer: Brandon Grabowski
Director of interactive: Michael Marina
Director of Digital Strategy: Sonya Cifuentes-Hiss
Lead Developer: Hayk Berzirganyan
Producers: Sofia Anjum, Annie Chen
Senior Developer: Brandon Fisch
Developers: Anthony Sherritt, Martin Hristoforov
UX Lead: Brittany Faix
UX Designer: Melissa Sweet
Designer: Spencer Dina
The Famous Group is a full-service integrated production and software development company in Culver City, CA and New York, handling all aspects of live action filming and editing, CG/motion graphics, digital development and production for broadcast and the web under one roof. The company provides agencies and brands with experienced in-house resources for discovery (research, analytics, social media monitoring), strategy (planning), execution (live action film and production, information architecture, UX and interface design, technology development, back-end integration and deployment, Facebook and mobile apps, animation, motion graphics, augmented reality, etc.) and performance (content syndication, social media outreach and racking, community development and more) services. It's software development division is focused on social entertainment platforms for live events and public spaces. The Famous Group was the winner of a 2013 AICP Next Award for their work on AT&T's "Brackets by Six-Year Olds", a 2013 NY Emmy in sports graphics for the New York Jets Television Network, a 2012 AICP Award for "Harlem Elvis" on behalf of the Office of National Drug Control Policy, contributed interactive work that won a pair of 2012 OneShow Pencils and a Clio Award for agencies, and won dozens of Addy, Telly, Communicator, ICA, FWA and other awards. For more information, please visit http://www.thefamousgroup.com.
# # #