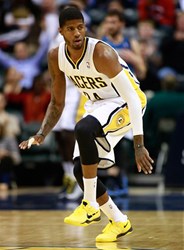 Denver, Colorado (PRWEB) February 13, 2014
Riding the hot hand and powerhouse play of super swingman and two-time NBA All-Star Paul George, the 40-11 Indiana Pacers have established themselves as the team to beat heading into the All-Star break.
With NBA ticket sales surging according to Marta Ault at BuyAnySeat.com, Indiana will look to continue their success in the second half with the scorching 36-14 Miami Heat hot on their heels.
Indiana heads into the break with the best record in the Eastern Conference. Head Coach Frank Vogel, forward Paul George and center Roy Hibbert are on their way to New Orleans after earning spots on the Eastern All-Star squad.
Despite ranking 18th in offensive efficiency with just 102.8 points per 100 possessions, Indiana has found success with their impenetrable defense. In fact, the team ranks as the NBA's best with opponents averaging a mere 90.7 points per game.
"Just over 50 games into the 82-game regular season, Indiana is helping spur ticket sales around the league," said Marta Ault at online ticket marketplace BuyAnySeat.com. "Other top sports ticket sellers this week include Monster Jam, the New York Yankees, Exhibition: Mexico, the Boston Red Sox, WWE, and PBR – as NHL teams are on an Olympic break."
"That's why we're proud to offer fans the most comprehensive and continuously updated selection of sports tickets online, with a worry-free guarantee to protect their purchase," added Ault.
"To access the full line-up of NBA Basketball tickets now available, customers can go to BuyAnySeat.com and click on the NBA in the Sports Header bar, then select their team and their tickets."
Despite their impressive numbers this season, the Pacers have shown their streakiness. After losing just two of their first 20 games, the Pacers dropped three of five in both December and January.
A five game road trip to close out January left the Pacers with more than a few skeptics. Double-digit losses to both the Suns and Nuggets had many questioning the Pacers consistency. However, their four-game winning streak to start February has put the team back on track.
If the Pacers can improve their offensive game in the second half, few teams will be able to contend. In their 119-80 blowout win Monday night against Denver, Indiana shot a blistering 57.5 percent from the field while holding the Nuggets to a mere 31.5 shooting percentage.
The top ten teams in this week's power rankings are the 42-12 Oklahoma City Thunder, 40-11 Indiana Pacers, 36-14 Miami Heat, 36-18 LA Clippers, 35-17 Houston Rockets, 36-16 Portland Trail Blazers, 37-15 San Antonio Spurs, 30-21 Phoenix Suns, 31-22 Dallas Mavericks and 28-23 Memphis Grizzlies,
To shop for NBA Basketball tickets, visit BuyAnySeat.com
About BuyAnySeat.com: An online ticket marketplace, BuyAnySeat.com connects sports, theater and other live entertainment fans to an extensive network of ticket sellers worldwide. The site's simplified listings and navigational tools enable shoppers to easily locate, compare and purchase inexpensive, discounted or lower-priced tickets to virtually all advertised sports and entertainment events around the globe.
The ticket marketplace, which is PCI-compliant and Norton Secured, also provides customers with a complete Worry-Free Guarantee on all ticket purchases. Based in Denver, Colorado, BuyAnySeat.com is a subsidiary of Denver Media Holdings. For more information, please visit http://buyanyseat.com.