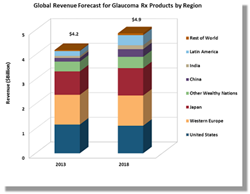 Market Scope expects total global sales of glaucoma pharmaceuticals to climb to $4.9 billion by 2018 at a compounded annual growth rate (CAGR) of 3.1 percent with the greatest growth in emerging market areas
St. Louis, MO (PRWEB) February 14, 2014
Market Scope is pleased to announce the availability of the 2013 Comprehensive Report on the Global Glaucoma Pharmaceuticals Market. Glaucoma is the second leading cause of blindness worldwide, and, as population age, glaucoma's prevalence is increasing. Pharmaceutical therapy is typically the first treatment option, but the glaucoma pharmaceutical market is now mature, and no novel medication classes have been introduced in nearly twenty years. Nonetheless, several key trends are shaping the market and suggesting a more dynamic future.
Currently glaucoma cannot be cured, but treatment often forestalls the progressive vision loss of the disease. Several classes of ocular hypotensive medications are used to lower elevated intraocular pressure (IOP), the most significant and, at present, the only treatable risk factor for glaucoma's progression. Today, prostaglandin analogs are the leading first-line treatments for glaucoma, and these products have accounted for a majority of market revenues and market growth during the past decade. However, patent protection for original prostaglandins has begun to expire and generic competition has reduced revenues in this increasingly cost-conscious environment.
Nonetheless, health care access and infrastructure are improving in emerging markets, and with these changes, rates of diagnosis and treatment are increasing, driving more robust market growth in these regions. A rich pipeline of more than 80 novel agents, many with new mechanisms of action, also signals changes ahead. Work on novel drug delivery technologies is also advancing and offering potential solutions for compliance issues that are common with current glaucoma medications.
Market Scope expects total global sales of glaucoma pharmaceuticals to climb to $4.9 billion by 2018 at a compounded annual growth rate (CAGR) of 3.1 percent with the greatest growth in emerging market areas. Our 2013 report on the glaucoma pharmaceutical market is the only glaucoma market report to include a detailed analysis of prevalence of types of glaucoma, glaucoma providers, treatments and compliance, as well as unit breakdown by drug class.
Our Report is Organized into Key Areas and Includes:

Overview of Primary and Secondary Forms of Glaucoma
Prevalence of Glaucoma by Type and Diagnosed Cases
Glaucoma Care Providers Worldwide
Diagnosing Glaucoma
Treating Glaucoma
Glaucoma Medications in the Marketplace
Estimates and Five-Year Forecasts for the Glaucoma Market
Development Pipeline for Glaucoma Pharmaceuticals
Adjunctive Drugs Used in Glaucoma Surgery
45 Company Profiles
About Market Scope
Market Scope is the leading source for market data, independent perspective and objective analysis in today's ophthalmic marketplace. Since 1998, Market Scope has surveyed ophthalmologists regarding practice of medicine and practice management issues. We use this data, along with our extensive database of ophthalmologists and surgery centers, our wide-ranging knowledge of ophthalmic products and technology, and our comprehensive network of industry contacts, to report on the ophthalmic industry.
For more information about this report, email kristen(at)market-scope(dot)com or call (314) 835-0600. A full listing of all Market Scope reports and subscriptions is available at http://www.market-scope.com.