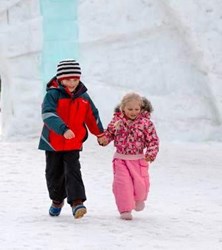 This spring because of Sochi, it will be even more fun to connect with the Olympic spirit, share spring break Olympic adventures, and go for the gold with your family.
Tampa, Florida (PRWEB) February 14, 2014
TheFamilyTravelFiles.com has just posted three Olympic spring break vacation places to its popular Spring Break vacation planning folder to make it easier for parents or grandparents to sustain the positive energy and spirit of the 2014 Winter Olympics in Sochi. The three venues, Lake Placid, Squaw Valley, and Park City, host visitors all year long but during the winter months (including March spring school break) it is actually possible to ski, board, sled, play hockey, curl or ice skate where the competitions took place.
"There is no substituted for being there. Why not go for the gold with your family? This spring because of Sochi, it will be even more fun to connect with the Olympic spirit and share spring break Olympic adventures with ice, snow, and sunshine," according to Nancy Nelson-Duac, Curator of the Good Stuff for theFamilyTravelFiles.com.
US Olympic spring break vacation places include a slew of winter activities for families including some with Olympic origins and some just pure high-energy fun. From Alpine skiing and snowboarding slopes to ice skating and racing venues, the possibilities for Olympic-style family fun are endless.
In Lake Placid home of the 1932 and 1980 Winter Olympics, try Alpine skiing and snowboarding at Whiteface Mountain then ice skate on Mirror Lake, and slide the famous Lake Placid Toboggan Chute.
Squaw Valley the venue for the 1960 Winter Olympic Games continues to offer Olympic-style activities. From Alpine skiing, snowboarding, snowshoeing, and cross-country skiing to dog sledding, snow tubing and a grand snow castle for kids, Squaw Valley makes certain winter time is fun for athletic families.
In Park City home of 2002 Winter Olympics, the Utah Olympic Park complex offers families plenty of Olympic fun including the chance to try cosmic curling, race down the Olympic bobsled track or learn to steer a skeleton or luge.
For more spring break family vacation ideas posted by region view the Spring Break planning folder from the homepage at theFamilyTravelFiles.com.
About theFamilyTravelFiles.com. Founded in 1998, theFamilyTravelFiles.com is one of America's top-rated online family travel resources offering more than 1000 pages of timely family vacation ideas and trip planning information. The website specializes in displaying family vacation ideas, destination information for adults planning family vacations, advice about family trips, and family travel deals. To assist in narrowing searches, colorful vacation idea folders are visible throughout the website.