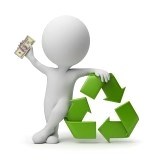 MinuteHound's time clock software is easy-to-install and does not require any professionals or special training.
New York, NY (PRWEB) February 19, 2014
Businesses are now able to save more money by not having to make time cards, employee id cards, or any other tools needed in order for employees to clock-in and out. MinuteHound's time clock software system does not require any type of employee card or employee number in order to work.
All the employee needs to do in order to clock-in or out is scan their finger on the biometric fingerprint reader. The biometric fingerprint technology will scan the employee's finger or thumb of choice and register the time of use. Fingerprints are not kept in the system, for it uses a 128-bit encryption to transfer the data.
Managers can log into the cloud-based, time clock system from any computer that has access to the internet. This is perfect for managers or supervisors that need to view live reports while they are on vacation or away from the office. The live reports help businesses decide if they are overstaffed or understaffed during certain parts of the day, week, or even holidays. Managers can rest assured knowing that buddy punching, unexpected overtime, or tardiness is no longer going to be an unresolved issue. Text messages and email alerts can be set up through the system to alert managers of any attendance problems.
MinuteHound's time clock software is easy-to-install and does not require any professionals or special training. The system can be placed any where that is convenient for employees to use. The biometric fingerprint reader can be connected to any computer that the company has. There are extension cords available to help connected the reader. Once the reader has been set-up, employees will be able to use the system. If there are any issues with the fingerprint time clock, there is round clock support available to help correct the matter.
The time clock software program is very affordable. Companies will pay a one-time fee to have the scanner sent to them. Then, there is a monthly fee that is processed. The monthly fee is less than one dollar per employee and five dollars for each branch. The pricing calculator will give anyone an exact quote of what MinuteHound will cost their business.
There are no long term obligations or risks for companies that switch over to MinuteHounds time clock software. The business can cancel at any time. The system is great for just pennies a day, and it will ensure perfect accuracy for the payroll department. This allows no room for errors, and it can save companies up to five percent within their payroll alone. The savings can equal in the thousands and can be useful for other parts of the company.
MinuteHound Contact Information
Website: http://www.MinuteHound.com
Email: info(at)MinuteHound(dot)com
Phone: (800) 351-7237