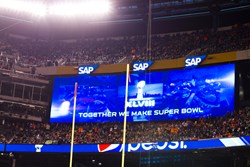 Culver City, CA (PRWEB) February 14, 2014
While other ad agencies and production firms had already put the finishing touches on their Super Bowl XLVIII ads, integrated production company The Famous Group was just in the process of creating a series of "real-time" content films for the NFL shown on the stadium's four giant HD LED video boards while the game is in progress.
The Famous Group has a long history of providing in-stadium graphic content for sporting events, including the past eight Super Bowls. This year, the firm expanded their efforts to include production of seven :30 content films which included scenes of local landmarks, players, fans and pre-game events shot in New York and New Jersey during the week leading up to the game, combined with footage of key moments from the game itself to compete the segments. The work carried a "Together We Make Super Bowl" tagline, playing off the NFL's current "Together We Make Football" branding.
All of the in-stadium content films can be viewed here.
(For a complete overview of work done by The Famous Group at Super Bowl XLVIII, please visit our Super Bowl XLVIII project page and watch a behind-the-scenes video featuring all of the firm's work.)
A team of 11 staffers were on hand during the lead-up week to produce, direct and edit the content, including real-time production done throughout the game. Pre-game footage includes locker room footage, fans enjoying the festivities on Super Bowl Boulevard in Times Square, iconic area landmarks and locations like the George Washington Bridge illuminated in Seahawks green and Broncos orange, behind-the-scenes shots in the broadcast control room and various scenes from Media Day. This content was then coupled with action from game day as it happened, and screened on the stadium's four 18' x 130' HD LED video boards during the game.
"The creative thread in these spots was to couple together the imagery of New York and New Jersey with the game, the cold weather and the Vince Lombardi trophy itself," said Andrew Isaacson, Executive Producer, who heads up the sports and entertainment division for The Famous Group, based in Culver City, CA and New York. "Sequences included an NYPD officer directing traffic in Times Square, followed by shots of a referee keeping order on the field that day,"
He added the assignment was a great fit for The Famous Group. "For more than a decade, we've handled in-stadium digital content and graphics for dozens of pro teams and leagues, and produced award-winning broadcast ads and web content for leading brands," said Isaacson. "This work brings those areas of content and production expertise together in real time."
The NFL content films are just one element of The Famous Group's work at Super Bowl XLVIII. They also created the game brand guide, including speed elements dictating the premium, high-gloss design style used in all official signage. The firm provided all in-stadium graphics including player head shots and prompts, featured their VIXI social fan entertainment platform, and used its Stats-In-A-Box statistics system, providing fans with real-time fantasy football stats displayed on stadium boards during the game.
The firm was also active on the floor of Media Day earlier in the week, getting viral photo coverage for it's customized Novo 2K POV mini-cam used by players and media on hand.
More than a decade of strong sports experience
In addition handling in-stadium content for the last eight Super Bowls and numerous NHL All-Star Games, The Famous Group has a long track record of creating in-stadium, broadcast and digital work for dozens of NFL, NBA, NHL and MLB teams. Other recent sports work includes Draft Day events with the NFL and Nike, video and in-stadium content for a number of New York area teams (New York Giants, New York Jets, New York Knicks, New York Rangers, Brooklyn Nets and New Jersey Devils), pre-game films the Houston Texans, St. Louis Rams and many others.
Credits:
Client: NFL
Campaign: "Together We Make Super Bowl" real-time content films at Super Bowl XLVIII
NFL Senior Vice President, Events: Frank Supovitz
NFL Director, Event Presentation: Sammy Choi
Production Company: The Famous Group, Culver City, CA, New York, NY
Executive Creative Director: Greg Harvey
Executive Producer: Andrew Isaacson
Creative Director: Hemu Karadkar
Managing Director: David Kwan
"Together We Make Super Bowl" real-time content films
Director: Lauren Fisher
Asst. Director: Randy Strauss
Producers: Brandon Grabowski, Will Hyde
Cinematographer: Connor O'Brien
First ACs: Steve Davis, Miklos Buk
Editors: Jaron Halmy, Lilka Hara, Stephanie Andreou
Line Producer: Jennifer Pearlman
Production Assistants: Jaime Pizarro, Christoph Berges, Isiah Brightly, Johnny Jarrett Graham, Gavin Quarto
Game-day graphics
Art Director: Jesse Austin
Producer: Nick Molo
Animator: Rachel Arnold
Designers/Animators: Ryan Somerville, Austin Weyer, Tyler Haywood
The Famous Group is a full-service integrated production and software development company in Culver City, CA and New York, handling all aspects of live action filming and editing, CG/motion graphics, digital development and production for broadcast and the web under one roof. The company provides agencies and brands with experienced in-house resources for discovery (research, analytics, social media monitoring), strategy (planning), execution (live action film and production, information architecture, UX and interface design, technology development, back-end integration and deployment, Facebook and mobile apps, animation, motion graphics, augmented reality, etc.) and performance (content syndication, social media outreach and racking, community development and more) services. It's software development division is focused on social entertainment platforms for live events and public spaces. The Famous Group was the winner of a 2013 AICP Next Award for their work on AT&T's "Brackets by Six-Year Olds", a 2013 NY Emmy in sports graphics for the New York Jets Television Network, a 2012 AICP Award for "Harlem Elvis" on behalf of the Office of National Drug Control Policy, contributed interactive work that won a pair of 2012 OneShow Pencils and a Clio Award for agencies, and won dozens of Addy, Telly, Communicator, ICA, FWA and other awards. For more information, please visit http://www.thefamousgroup.com.
# # #