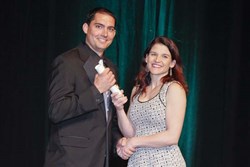 Peoria, AZ (PRWEB) February 14, 2014
Eric Bloom, PT, DPT, OCS, Cert. SMT has been a member of the Swing PT family since 2010, and completed an Orthopedic Residency at Mercer University in 2012. Each year, specialty examinations are given in March, and those that achieve their board specialties are recognized the following year.
The Recognition Ceremony for Clinical Specialists is the opening event at APTA's Combined Sections Meeting (CSM). The Ceremony recognizes newly certified and recertified clinical specialists in the eight approved areas of board certification. The ceremony consists of an opening remarks speaker, a presentation by the ABPTS Chair and APTA President, along with a formal acknowledgement and recognition of all newly certified and recertified specialists in attendance.
Eric brings his Orthopedic Specialty back to the very reputable Swing PT that is an Orthopedic and Sports based physical therapist owned company in Surprise and Peoria, Arizona. He becomes 1 of 142 Orthopedic Specialist in Arizona and 1 of about 8,500 Orthopedics Specialists across the country. For more information about Board Specialty Certifications visit http://www.abpts.org and for more information on Swing PT, visit their website http://www.swingpt.com.