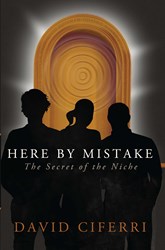 New York, New York (PRWEB) February 13, 2014
When Brandon and his friends Stephen and Sarah sneak into his Aunt Faye's basement full of antiquated treasures, they find more than they were looking for. Although it is forbidden, the three friends, hoping to have their best summer ever, know that their adventure starts then and there. They find a trove of gold coins, a knight's armor, a grizzly bear on a pedestal, and… a mysteriously decorated niche. As they read the Latin inscription, they leave behind New York, 2005 and transport to another time and place: New Orleans, 1965. In David Ciferri's "Here By Mistake: The Secret of the Niche," the friends search for a way home, while trying to avoid altering anything that may affect the future.
While the clock is ticking for the friends to find the niche again, they gain new perspective, not only about their history, but about the lives of the people they think they know best. As they are urged to lay low, Brandon cannot resist drawing attention to the time travelers by jumping in to help someone in need. Will the changes in history be catastrophic or will Brandon's instincts actually change things for the better? Can they find their way back and avoid being discovered? Only by finding the niche can the three friends make it home and find the true purpose of their adventure. "Here by Mistake" is available wherever books are sold.
About the Author
David Ciferri is a clinical social worker who has frequently used storytelling in his work. He was born and raised in upstate New York.