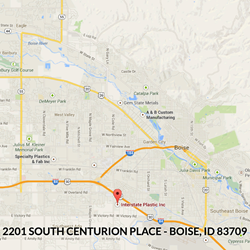 Our Boise branch is staffed by one of the longest tenured and most experienced personnel in plastic distribution today.
Boise, ID (PRWEB) March 04, 2014
Expanding with more personnel, new equipment, and training, Interstate Plastics Boise now provides even more superior plastic solutions to the area's key and emerging industries. The branch, located in Boise, is the state's preeminent distributor of high quality plastics, including food processing, semiconductor, and advanced manufacturing industries. Local customers rely on and value Interstate Plastic's team of dedicated specialists who supply quality plastic materials along with remarkable product and application expertise.​
Customers can order from Interstate Plastics Boise by contacting (208) 322-4400 or visit the branch's sizeable warehouse, where they can find a large array of plastics and storefront of essential fabricating tools and accessories. The Boise branch stocks only the best plastics from leading manufacturers such as Quadrant, Ensinger, Rochling, Vycom, Evonik/Cyro, Plaskolite, and Kydex. Stocked plastics include a full-line of cut-to-size sheets, rods and tubes as well as semi-finished plastics. Commodity and niche application plastics are available, including ABS, Acetal, Acrylic (Plexiglass), HDPE, Marine Board, Polycarbonate, Polypropylene, PVC, UHMW as well as a multitude of specialty plastics.
Interstate Plastics of Boise carries a large inventory of high performance application plastics, including Torlon, Turcite, Nyloil, Nylatron, Delrin and Delrin AF, PTFE Teflon and many other specialty grades of products.
"Our Boise branch is staffed by one of the longest tenured and most experienced personnel in plastic distribution today," Boise Branch Manager Bob Umphress explains.
Interstate Plastics is a full-line distributor and manufacturer of plastic sheets, rods, tubes, films, bars, and profiles, as well as plastic accessories, tools, and care products. With 10 locations nation-wide and an online sales and support team, Interstate plastics provides full sheets and pallets, simple cut-to-size, and even complex CNC manufacturing. Interstate Plastics is renowned for its reputation of selling high quality products, providing excellent customer service, and superior technical support. Interstate Plastics proudly serves many diverse industries including semiconductor, medical, aerospace, food processing, POP display, government, and automotive to name a few; and would be pleased to serve you. Excellence in customer service is the very foundation of Interstate Plastics and has been for almost thirty five years.