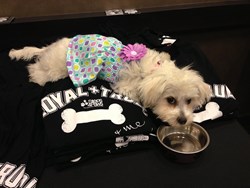 Uniting Fashion to Save Dogs...
Los Angeles, CA (PRWEB) February 13, 2014
On February 18, 2014 Steps4Paws will unveil its women's collection at WWD MAGIC North Hall booth 62108. WWD MAGIC a premier tradeshow destination for fashion designers and trendsetters from all over the world. Steps4Paws has partnered with Best Friends Animal Society and We Care For Animals, which will be bringing in 3 adorable dogs that are looking for their forever homes through MAGIC! Using the platform of the glamorous fashion industry to help raise awareness for the cause. WWD MAGIC attendees will have the chance to interact with the adorable dogs, all while viewing a collection that will save our furry friends!
Steps4Paws began with the intent to end the killing of dogs that are deemed unadoptable in shelters by buying them more time to find a loving home "We were really shocked by how many pets are being killed each year in U.S. shelters, we want make an impact, to do something to change the statistics and educate people on how to put an end to pet overpopulation" said founder Vered Nisim. Vered is VP of Sledge USA and JH Design Group, leaders in the fashion industry, and has been a dog advocate for many years, helping local shelters and opening her home to foster dogs. She has created this brand to bring together her passion for dogs and her passion for fashion. Steps4Paws is spreading the word – One Reason, One Step, One Dog.
Steps4Paws recently launched the "Loyal and True" collection at Fred Segal Melrose, where celebrity guests and dog lovers lined up to support the brands movement with their own furry best friend in tow. For Spring 2014 Steps4Paws will launch its new collection at Saks Fifth Avenue stores nationwide, with in store dog friendly events that will cater to all dog loving fashionistas all while raising money for a cause dear to all.
Our Motto - You can be fashionable and save lives at the same time – what could be better than looking stylish and saving the lives of dogs in need.
For more information please visit http://www.steps4paws.com.
Vered Nisim
213-741-3833
info(at)steps4paws(dot)com