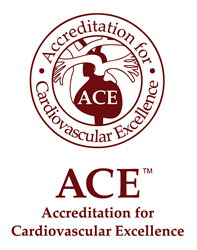 Certain facilities performing elective PCI procedures without surgery must meet the stringent guidelines of ACE accreditation and external review.
Washington, DC (PRWEB) February 13, 2014
The Commonwealth of Pennsylvania has determined that certain cardiac catheterization lab (CCL) facilities seeking a waiver from state regulation to provide elective PCI services, without onsite open heart surgery, must be accredited by a state department‐approved accreditation agency with standards at least equal to those of the Accreditation for Cardiovascular Excellence (ACE). ACE is the first organization to be recognized by the Commonwealth and has been leading the way by providing expert guidance to state regulatory departments on national standard criteria for the cardiac catheterization lab.
Citing national accreditation and external review as an accepted strategy for program quality assurance, ACE is viewed as the standard-bearer for achieving quality metrics in the CCL. Certain facilities performing elective PCI procedures without onsite surgery in Pennsylvania may choose to incorporate the comprehensive guidelines of ACE accreditation to seek a waiver from the state requirements.
ACE is the only provider of Cath Lab accreditation, and delivers unique programs that help facilities comply with documentation to meet Appropriate Use Criteria (AUC) while elevating the performance of the facility by integrating standardized care. Reducing complexity to focus on vital quality indicators, the result is a cost-effective program that mitigates risk. Isn't it time that you look to the experts at ACE to engage your cardiovascular program in the quality outcomes process? Visit our website to learn more: http://www.cvexcel.org.
ACE, an independent organization sponsored by the Society for Cardiovascular Angiography and Interventions (SCAI) and the American College of Cardiology Foundation (ACCF), offers independent evaluation and monitoring of facilities that provide cardiovascular care. By reviewing facility and operator performance and comparing clinical decision-making to nationally accepted best practices, ACE quality review and accreditation services play a critical role in continuous quality improvement programs. Learn more at http://www.cvexcel.org.