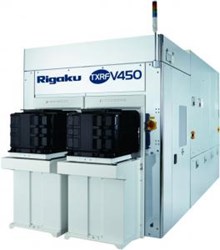 (PRWEB) February 13, 2014
Rigaku Corporation, a world leader in X-ray metrology has been selected by a global Semiconductor Equipment Manufacturer as their supplier of a TXRF-V450 Total-reflection X-Ray Fluorescence Spectrometer, for contamination measurement on 450mm diameter Silicon Wafers.
Mr. Yoichi Yokomizo, Executive VP and GM of Rigaku's International Sales and Marketing Division said: "We are delighted to announce a Technology Partnership with a global Semiconductor Equipment Manufacturer and to have validation of our decision to invest in fully automated TXRF equipment for 450mm wafers, with optional integrated VPD (Vapor Phase Decomposition). We expect this sale to strengthen our large market share of TXRF tools in the global market and enhance our reputation of providing leading-edge tools for the semiconductor industry.
These new 450mm tools are expected to be adopted by each of the world's leading semiconductor manufacturers, already familiar with high-speed, full wafer mapping (SP-TXRF), zero edge exclusion (ZEE-TXRF), automated backside measurements (BAC-TXRF) and, of course, our widely-used integrated Vapor Phase Decomposition (VPD-TXRF) designed for high-volume, in-line surface contamination measurement applications. All these tools are available with factory automation (GEM) software."
About Rigaku
Since its inception in Japan in 1951, Rigaku has been at the forefront of analytical and industrial instrumentation technology. Rigaku and its subsidiaries form a global group focused on life sciences and general purpose analytical instrumentation. With hundreds of major innovations to its credit, Rigaku and its subsidiary companies are world leaders in the fields of small molecule and protein crystallography, X-ray spectrometry and diffraction, X-ray optics, as well as semiconductor metrology. Rigaku employs over 1,100 people in the manufacture and support of its analytical equipment. Its products are in use in more than 70 countries – supporting research, development, and quality assurance activities. Throughout the world, Rigaku continuously promotes partnerships, dialog, and innovation within the global scientific and industrial community.
For further information, contact:
Joseph P. Formica, Ph.D.
Product Manager, Semiconductor Fab Products
Rigaku Americas Rigaku Corporation
281-362-2300 x220
Joe.Formica(at)rigaku(dot)com