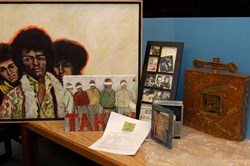 Visitors to the show [85 Years 85 Artists] will not be disappointed!
Atherton, CA (PRWEB) February 13, 2014
To celebrate its 85th anniversary, Menlo College is showcasing "85 Years 85 Artists," an exhibit starting on March 17, 2014. Artists from around the world responded, and 85 were selected and randomly assigned a year to illustrate. Participants from 23 states, the Netherlands, England, and Italy submitted works representing cultural, historical, or personal interpretations of their year's global, regional, or local events.
"Every day has felt like Christmas as artwork has arrived for the 85 Years 85 Artists show. The artists have embraced the challenge of researching their years in both social and personal terms, and the results are wonderful and intriguing. The artists used a wide array of media including painting, collage, book art, photography, fiber art, and mosaics," said Linda Smith, the College's Associate Dean of Library Services and Co-Chair of the Art Committee. "Visitors to the show will not be disappointed!"
There will be a reception on March 26 from 5 ‒ 7pm in the Menlo College Administration Building. The show remains open until July 11, 2014.
"This show sets a visual backdrop for the 85 years that Menlo College has offered a personalized, quality education for students around the world," said President James J. Kelly. "Our 85-year history confirms that through the changing times, our graduates continue to find that a Menlo education brings them success beyond the oaks."
Menlo College is an accredited, four-year, private college in the Silicon Valley offering degrees in business and psychology, and a required internship program. The College recently achieved accreditation from the Association to Advance Collegiate Schools of Business (AACSB), a distinction awarded to less than 5% of business schools globally, and represents a high-quality faculty, curriculum, and learning experience.