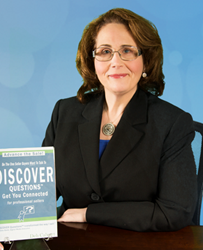 Selling conversations are just that. Conversations.
San Jose, CA (PRWEB) February 26, 2014
Deb Calvert, founder and president of People First Productivity Solutions, will be the featured guest on the Guerrilla Marketing to Women Podcast with Wendy Stevens today.
Calvert founded People First Productivity Solutions, dedicated to "building organizational strength by putting people first," in 2006. Since then, she has developed successful training programs for a wide variety of companies, founded the CONNECT! Community of social media, newsletters, webinars, and more.
With more than 15 years of field research as a sales person, sales manager, sales trainer and corporate sales training director she has earned the title of "Queen of Questions." Her latest accomplishment is penning the book "DISCOVER Questions™ Get You Connected for Professional Sellers," which was a finalist for Top Sales & Marketing Book of 2013.
Calvert will discuss how knowing the right questions to ask can begin conversations and build relationships. Her approach, using all eight purposes for asking questions, will help differentiate a seller from his or her competition and open up more marketing opportunities.
Guerrilla Marketing to Women is a weekly podcast where host Wendy Stevens and her guests "share their tools and strategies for generating more leads & converting more sales by working SMARTER NOT HARDER." The show's goal is to help sales professionals reach women, the largest consumer group in the country.
Wendy Stevens is the author of the Amazon best-seller "Reverse Google Marketing" and co-author of "Guerrilla Marketing Remix: Best of Guerrilla Marketing." She also created the record breaking training program "6 Figure School" that showcases her coaching and business strategies. The podcast is available on iTunes.
"DISCOVER Questions™ Get You Connected" can be purchased on Amazon.