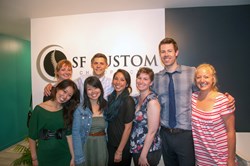 The recognition we receive from our patients in being nominated and consistently voted to the Top 5 on the Bay Area-A List every year is a wonderful gift.
San Francisco, CA (PRWEB) February 13, 2014
Established in 2011, SF Custom Chiropractic has been an innovative chiropractic practice thriving under the leadership of Dr. Adam Jacobs. A fast growing practice, SF Custom Chiropractic has expanded the original practice in the Financial District to include a new location in the Mission/Bernal Heights area. The addition of two highly skilled chiropractic physicians with diverse treatment techniques rounds out the steps taken to serve an ever growing patient base. SF Custom Chiropractic holds a commitment to providing excellent patient care and has been recognized on the Bay Area-A List in the Best Chiropractor category since opening its doors.
"It is an honor to be included amongst the best in the Bay Area every year," says Dr. Adam Jacobs, head treating doctor of the Financial District office and founder of SF Custom Chiropractic. "Here at SF Custom Chiropractic, we strive to give each patient the unique attention and treatment that they need and deserve. The recognition we receive from our patients in being nominated and consistently voted to the Top 5 on the Bay Area-A List every year is a wonderful gift."
Dr. Anthony Gustin remarks, "The last year has been very big for SF Custom Chiropractic. We expanded to our Mission/Bernal Heights location in September 2013 in order to better serve our growing patient base. We also made a commitment to evolve along with our patients' needs and concerns. We've created a focus on personalized plans for maintaining health by expanding our offerings to include rehabilitative health and exercise plans through functional movement training as well as recommendations for a healthier diet to increase health and fitness."
One of the leading chiropractic offices in the Bay Area, SF Custom Chiropractic provides tailor-made services to athletes, office workers, and people of all walks of life. Active Release Technique, Graston, and laser therapy are just a few of the techniques that help treat musculoskeletal injuries and help to promote joint health. These services, along with Functional Movement Screening, can help assess biomechanical faults, muscle imbalances and asymmetries, while promoting proper stability and neuromuscular efficiency.
SF Custom Chiropractic has also devoted much attention to not only treating the the symptoms of pain, but also to educating patients in order to eliminate the causes of common day to day back pain and joint pain. Dr. Jacobs, Dr. Gustin, and Dr. Bailey have each committed time to attend many health fairs, health talks, and fitness events around San Francisco and the Bay Area in order to spread the knowledge needed to maintain proper ergonomics. Their outreach has also included scoliosis and backpack screenings at local San Francisco middle and high schools to help educate young students and catch early symptoms of poor posture and scoliosis that can contribute to discomfort and back pain later in life.
Last year, SF Custom Chiropractic was honored to finish # 3 in the Best Chiropractor category on the Bay Area-A List. With the voting period open for another two weeks, it is more essential than ever to cast your vote. To help SF Custom Chiropractic reach the # 1 spot, please visit the Bay Area-A List, Best Chiropractor category and cast your vote.
Based in the Financial District of San Francisco, SF Custom Chiropractic opened in January 2011. In July 2013, SF Custom Chiropractic opened its second location between the Bernal Heights and Mission District. Head treating doctor, Dr. Adam Jacobs received his doctorate from Palmer West College of Chiropractic (known for being the leader of sports chiropractic). Dr. Anthony Gustin received both his doctorate and masters from University of Western States in Portland Oregon. Both Dr. Jacobs and Dr. Gustin are Certified Chiropractic Sports Practitioners. In addition to their doctorate degrees, Dr. Jacobs has his fully body A.R.T.® Masters degree and long nerve entrapment certification and Dr. Gustin has received a Masters of Science in Exercise and Sports Science. SF Custom Chiropractic takes a holistic full body approach to fix underlying structural problems associated with back pain and many other musculoskeletal disorders. For more information, visit http://www.sfcustomchiro.com or follow us on Twitter @SFCustomChiro.