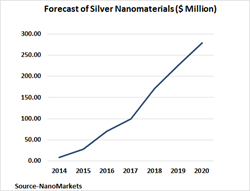 NanoMarkets thinks that more than half of the revenues for suppliers of silver nanomaterial TCs will come from LCDs by 2019.
Glen Allen, VA (PRWEB) February 13, 2014
Glen Allen, Virginia: Although negligible at present, the market for transparent conductors (TCs) using silver nanowires and other silver nanomaterials is expected to generate more than $225 million in revenues by 2019. This is according to a report just published by NanoMarkets titled, "Markets for Silver Nanomaterials as Transparent Conductors, 2014-2020."
For more details of the report see: http://nanomarkets.net/market_reports/report/markets-for-silver-nanomaterials-as-transparent-conductors
The new report follows a recent NanoMarkets report titled, "Markets for Metal Meshes as Transparent Conductors-2014" that continued the firm's coverage of the transparent conductor. See more details at: http://nanomarkets.net/market_reports/report/markets-for-metal-meshes-as-transparent-conductors-2014
About the report:
This report identifies and forecasts the opportunities for silver nanomaterial TCs used in touch-screens, OLEDs (displays and lighting), e-paper, thin-film PV, OPV/DSC, anti-statics and EMI shielding. It also analyzes the strategies of leading firms in this segment of the transparent conductor market and provides a comparison among silver nanomaterials and other leading TC materials. Detailed forecasts of the market broken out by volumes and applications are included.
Among the firms that are discussed in this report are: 3M, Cambrios, Carestream, Cima NanoTech, ClearJet, E Ink, Fujimori Kogyo, G24, Heliatek, JTOUCH, LG, NISSHA, Novaled, Saint-Gobain, Samsung, SeaShell Technology, Sumitomo, Tata Steel, Toray, and TPK Film Solutions.
From the report:
Firms offering silver nanomaterial TCs will have to move beyond their current focus on touch panels, since larger displays do not use touch extensively and touch control may eventually be supplanted by gestural control. One possibility is that silver nanomaterial firms will discover TC markets in the solar panel segment or perhaps OLED lighting. Ultimately, however, silver nanomaterial-based TC firms will have to find new business in the mainstream LCD sector, or they will never generate substantial revenues. There are already small signs that this can happen. For example, Cambrios has worked with Sumitomo to incorporate Cambrios' ink into LCDs. The LCD market is huge, however, so even a tiny penetration of it by silver nanomaterials can lead to substantial revenues. NanoMarkets thinks that more than half of the revenues for suppliers of silver nanomaterial TCs will come from LCDs by 2019.
Silver nanomaterials face strong competition from many other TC materials, but can claim certain advantages. Because nanomaterials form a random network, they don't have the risk of visible Moiré patterns that can be a concern with the increasingly popular metal meshes. Silver nanomaterial TC manufacturers are already using this as a selling point to distinguish their materials from meshes.
Meanwhile, commercial silver nanomaterials TCs have reduced haze to the point where they look better than ITO. Silver nanomaterials can also be patterned by passivating areas in the ink eliminating a need an index matching layer, which is required when ITO is used. In fact, patterning is becoming a market distinguishing feature for silver nanomaterial TC products and each company has its own approach. 3M, for example, provides pre-patterned films and claims that this enables it to be cost-competitive with ITO because it saves the customer the time and expense of etching and patterning. But some TC suppliers firms believe that having customers pattern the films themselves is an advantage because it provides flexibility to create novel sensor and displays designs.
About NanoMarkets:
NanoMarkets tracks and analyzes emerging markets in energy, electronics and other area created by developments in advanced materials. The firm is a recognized leader in industry analysis and forecasts of in the transparent conductor industry.
Visit http://www.nanomarkets.net for a full listing of NanoMarkets' reports and other services.
Contact:
Robert Nolan
NanoMarkets
(804) 938-0030
rob(at)nanomarkets(dot)net