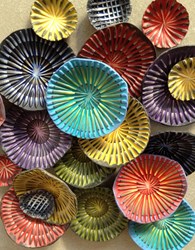 In the long run, this organic evolution has stimulated sales, and demand for their work has only increased.
Philadelphia,PA, Santa Fe,NM, Baltimore,MD (PRWEB) February 14, 2014
From February 21st through 23rd, Ford/Forlano will be showing new work at the American Craft Council's flagship show in Baltimore. This show marks the beginning of each year when Steve Ford and David Forlano introduce new designs to the public. From their Philadelphia and Santa Fe studios they send projects back and forth as they develop work for the show. As Bruce Metcalf says in "MAKERS: A History of American Studio Craft," Customers can see new work and also trace Ford and Forlano's growth and change. In the long run, this organic evolution has stimulated sales, and demand for their work has only increased." The Baltimore show is open to the public and is one of the largest shows of its kind. Over 650 contemporary crafts people from across the country exhibit and sell their work. It is held at The Baltimore Convention Center. Ford/Forlano will be in booth #406.
With five awards of excellence from the American Craft Council, Steve Ford and David Forlano share a place in the pages of history with the pioneers of American Studio Craft. In the late nineteenth century the American craft movement found it's beginnings from the pioneering studios of Louise Comfort Tiffany and William Morris among others. These early craftsman made work in reaction to industrialization. While new machines and technologies started to replace the hands of the maker the general public had an ever increasing desire for artfully crafted objects. William Morris once said, "History has remembered the kings and warriors, because they destroyed; art has remembered the people, because they created." In today's world, where there seems to be and app for everything, Ford and Forlano continue the tradition of hand crafting their jewelry for a growing base of collectors and craft enthusiasts.
"Have nothing in your house that you do not know to be useful, or believe to be beautiful." - William Morris
The work of Ford/Forlano is in the permanent collections of eight museums including the Philadelphia Museum of Art, the LA County Museum of Art, the Museum of Fine Arts Boston, and the Newark Museum. Chief Curator and Curator of Decorative Arts of the Newark Museum, Ulysses Dietz, said recently, "Steven Ford and David Forlano's work represents, to me, the single most transformative influence in the world of polymer clay. They have ennobled a material relegated to preschools and have developed a design vocabulary as deeply rooted in modern art as it is in craft."
Their schedule of top tier shows continues in the Spring 2014 with the Smithsonian Craft show at the National Building Museum in Washington D.C. and Craftboston at the Cyclorama.
About Ford/Forlano:
Steve Ford and David Forlano have been creating contemporary jewelry since 1988. Both artists studied at Tyler School of Art in Philadelphia and Rome. They first developed their work under the business name, "City Zen Cane" and with the addition of precious metals in the 1990's changed the name to Ford/Forlano. Their collaboration has placed their work in many publications, galleries, public and private collections. They continue to break new ground in contemporary American craft jewelry. For more information, visit fordforlano.com.