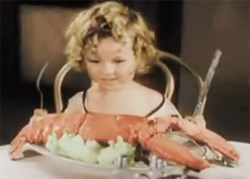 "To Shirley and to children everywhere, we dedicate this recipe – healthy, delicious, and easy-to-eat."-Mark Murrell
(PRWEB) February 13, 2014
As the world bids farewell to Shirley Temple Black, a little girl who offered hope to a generation enduring the Great Depression, GetMaineLobster.com was moved to dedicate a recipe to her: the Shirley Temple Lobster Stew.
The recipe was inspired by the image of young Shirley facing an enormous lobster in one of her early films.
"How many children find themselves in this position, attempting to eat a delicious but perhaps challenging food?" said Mark Murrell, owner of GetMaineLobster.com. "To Shirley and to children everywhere, we dedicate this recipe – a healthy, delicious, easy-to-eat alternative."
Shirley Temple Black was a remarkable actress and dancer, an ambassador, and a beloved mother, grandmother, great-grandmother, and wife of fifty-five years. A woman of rare achievement known all over the world, she has been commemorated for many years with the Shirley Temple drink that children enjoy as a treat. Now, children can enjoy another treat dedicated to her memory, featuring the American classic Maine Lobster.
"The Shirley Temple Lobster Stew hopes to capture many of the qualities that endeared Shirley Temple to us over the years," says Murrell. "Wholesome, American, elegant, natural, goodness. We won't forget her."
Shirley Temple Lobster Stew
Ingredients include 1 lb. lobster meat, cooked, roughly chopped; 1/2 lb. butter, unsalted; 2 quarts of half ½ 1/2 tsp. cayenne pepper; salt and pepper to taste.
Melt the butter in a medium-large pot over medium heat. Add in the lobster meat and sauté until it becomes a brighter red color and the butter starts to take on a pinkish hue.
Slowly stir in half & half until fully incorporated and heat over medium heat until hot. Don't bring to a boil because this will overcook the lobster meat and break the emulsion.
Simmer for 5 minutes and season with cayenne and salt. Serve in bowls with a few cracks of fresh black pepper and mini biscuits. This recipe takes 10 minutes to prepare, 20 minutes to cook, and serves 4.
Photo: "Rags to Riches," Legend Films
About GetMaineLobster.com:
GetMaineLobster.com, a division of Black Point Seafood and Black Point Gourmet, hand-selects the finest Maine lobster, seafood and beef products for convenient distribution throughout the United States. Their passion is to make fresh, quality seafood readily available to customers across the country, which is why they buy from only the most trusted, well-established suppliers to ensure that they receive the finest products available.
GetMaineLobster.com was selected out of the more than four million small American businesses served by Chase bank to represent its new Platinum Business Checking product for its 2013 national advertising campaign.