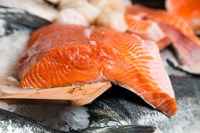 "Fish is a good source of protein and, unlike fatty meat products, it's not high in saturated fat." -American Heart Association
(PRWEB) February 13, 2014
February is American Heart Health Month, and Seattle's Pure Food Fish Market is fully stocked with an abundance of fresh-daily, heart-healthy, and certified organic Northwest King Salmon, available for overnight Federal Express shipment across the United States.
Fresh King Salmon is one of the healthiest forms of protein for our bodies, as it is not high in saturated fat, and it is also a good source of omega-3 fatty acids. "Omega-3 fatty acids benefit the heart of healthy people and those at high risk of — or who have — cardiovascular disease. Research has shown that omega-3 fatty acids decrease risk of arrhythmias (abnormal heartbeats), which can lead to sudden cardiac death. Omega-3 fatty acids also decrease triglyceride levels, slow the growth rate of atherosclerotic plaque and lower blood pressure (slightly)" – provided by the American Heart Association online.
Luckily, Fresh Salmon is one of the most versatile fish available and makes a tasty blank palette for anyone to prepare. Here is a selection of Pure Food Fish Market-approved healthy and tasty salmon seasoning tips:

Rosemary/Garlic Salmon: When baking your fish, just add a stem of fresh Rosemary, finely diced garlic and a few slices of lemon before baking in the oven at 375 degrees for 17 to 20 minutes. Rosemary is full of antioxidants as well as helps improve our memory.
Herbal Dill/Pepper: Add herbal dill over the top of the uncooked Fresh Salmon, as well as some pepper – bake at 375 degrees for 17 to 20 minutes and serve. Herbal Dill helps support your immune system by providing vitamins A and C.
Fennel/Coriander Seed – Make the salmon rub by adding ½ tsp coriander seed and ¼ tsp fennel seed, kosher salt and black peppercorns. Add a little oil and rub atop of the Fresh Salmon fillet. Throw it on the grill and cook to your liking. Fennel is a rich source of potassium as well as helps protect the eyes from inflammation.
Pure Food Fish Market offers its fresh King Salmon in whole fish proportions, and fillet or steak cuts. Other heart-healthy fresh seafood that the American Heart Association recommends include: Shrimp, Cod, Catfish, Crabs, and Scallops – all are available at FreshSeafood.com.
For a full list of fresh seafood products, visit Pure Food Fish Market online at FreshSeafood.com.
About Pure Food Fish Market:
Pure Food Fish Market is located in the heart of downtown Seattle in the famous Pike Place Public Market. Anyone who has visited Washington State knows that Seattle is the place for seafood. Tourists and locals alike come to the Pike Place Public Market to buy fresh seafood from Pure Food Fish Market, Seattle's most popular seafood retailer. Our family has been down at the market for four generations stocking an abundant assortment of delicious seafood from around the world but specializing in the fresh seafood from the Pacific Northwest. Today, Pure Food Fish Market offers their fresh seafood to the entire country via FreshSeafood.com where they overnight ship via FedEx to ensure freshness upon delivery.