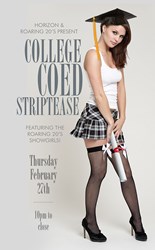 San Francisco, CA (PRWEB) February 13, 2014
Roaring 20's invites all their interested customers and patrons to come to their "College Coed Striptease" event on Thursday, Feb. 27. With tons of great drink and food specials, as well as exciting adult entertainment, everyone in attendance is sure to have a great time.
Those who buy a ticket to the event will receive dual access to Roaring 20's and the Horizon Restaurant & Lounge. The "College Coed Striptease" will feature a variety of drink specials, including bottle specials, $4 well drinks and five beers for $10. Customers can also expect food specials, pool tables and a beer pong area. There's something for everyone to enjoy at this event.
The special event will also feature Roaring 20's' very own showgirls. These beautiful and exotic ladies are talented entertainers who are dedicated to making their customers happy. Roaring 20's has the hottest dancers around, and they will all be attending this special event, making this one hot event that cannot be missed.
Roaring 20's is San Francisco's "Sinful Speakeasy." Roaring 20's is open seven days a week from 12 p.m. to 2 a.m. Reservations are always available, and the club enjoys hosting large parties and groups. Inspired by the 1920's, the club's interior is lavish and glamorous, transporting their customers back to America's golden age. The underground environment provides customers with an intimate setting that everyone is sure to enjoy. Roaring 20's offers the best in adult entertainment, and they are always ready to show their customers a grand time. For more information, visit their website at http://www.roaring20ssf.com/.
The "College Coed Striptease" starts at 10 p.m. and runs until closing time at 2 a.m. For more information about the event at Roaring 20's, visit http://www.roaring20ssf.com/events.html.