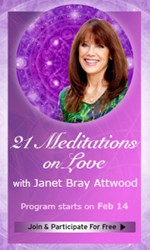 I want for you what you want for you.
New York, NY (PRWEB) February 14, 2014
Just in time for Valentine's Day, on beginning on Friday, February 14, Mentors Channel is pleased to bring you this timely meditation series. New York Times Bestselling author Janet Bray Attwood has created 21 days of how to nourish a relationship through unconditional love, simply sub-titled, "I want For You what You want For You".
After years of struggling with unfulfilling relationships, Janet discovered that when she said yes to what others wanted, and not what she wanted for them, they blossomed and reached new heights of passion, love, and joy. Her life's mission is transformation through love - and she has helped hundreds of thousands of people around the world discover their passions and transform their lives.
This unique 21 Meditation on Love program is provided by Mentors Channel for free for a limited time and is intended to teach participants how to: create stronger bonds with friends, family and loved ones; discover what it really means to love without conditions, judgment or expectations; reignite passion through practicing and living the powerful mantra of "I want for you what you want for you."
About Mentors Channel:
Mentors Channel is a resource of growth, empowerment and inspiration. Its vision is to bring personal growth to the masses with technology and an infrastructure that allows people to improve their well being anywhere, anytime and on any device. It is the place in which one can find the world's leading mentors ready to offer interactive guided coaching and meditation programs based on their teachings and on their worldwide bestselling books. Our mentors guide us towards great changes in life, changes we may have been dreaming of but were never sure how to obtain.