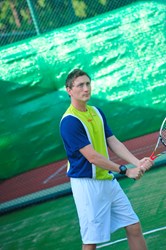 "Our aim is to deliver well structured, personalized tennis programs that foster consistent improvement in skills and great enjoyment of the game," said tennis director, James Corin.
Phuket, Thailand (PRWEB) February 13, 2014
The Outrigger Laguna Phuket Beach Resort has entered a partnership with Singapore-based tennis coaching provider, Savitar, to launch a multi-faceted Tennis Center for local residents and guests at the resort.
The Tennis Center, now open, consists of three newly renovated outdoor floodlit synthetic grass tennis courts and one indoor court. The Center has its own internationally recognized tennis director, James Corin. A menu of tennis lessons and services are now available for beginners to semi-professionals.
Phuket residents and guests staying at the Outrigger property can now enjoy a range of options such as private tennis lessons, group lessons, hitting sessions, mini tennis for 5-7 year olds, junior tennis for 7-12 year olds, teenage social tennis, fitness sessions, ladies morning tennis clinics and Friday evening social play.
The Tennis Center is a key element in Outrigger's aim to cater to guests seeking an active lifestyle holiday in Phuket, said the property's General Manager, Tony Pedroni. "With Savitar as a partner, Outrigger now combines great tennis facilities and high quality instruction at prices that make tennis fun and accessible to all our guests."
Tennis Director James Corin, from England, has over eight years of coaching experience in a variety of five-star clubs and resorts in the Middle East, USA and the Caribbean. In Dubai, he was development coordinator with responsibility for one of the emirate's largest junior tennis programs.
"Our aim is to deliver well structured, personalized tennis programs that foster consistent improvement in skills and great enjoyment of the game," said Corin. "We cover all aspects of the game, from fun group activities to tailor-made lessons for child or adult beginners, intermediate or highly accomplished players."
Pedroni added, "James is a tennis pro who enjoys working with all ages and levels from beginners to regional and nationally ranked players. He has much to offer our guests."
Cronin has qualifications from the Lawn Tennis Association, PTR, USTA, the Tennis Coaches Association and the UK Racket Stringers Association.
A Savitar 'Festival of Tennis' open day will be held on Saturday 1 March at the Center from 4-7 p.m. It is free to join and there will be mini tennis for kids, free coaching tips for adults, a barbecue and lucky draw.
The Tennis Center at the Outrigger Laguna Phuket Resort Beach Resort is open from 8 a.m. to 9 p.m. daily. Email: tennis.phuketbeach(at)outrigger(dot)co(dot)th.
-###-
About Outrigger Laguna Phuket Beach Resort
Outrigger Laguna Phuket Beach Resort opened in April 2013. It is a stunning absolute beachfront property on Bangtao Beach in Phuket and is designed as a haven for leisure guests or conducting business meetings with colleagues. The resort, within Laguna Phuket, offers 255 rooms and suites. An extensive range of culinary specialties is offered by the resort's five food and beverage outlets. For younger guests, Koh Kids is a fully supervised indoor and outdoor entertainment area. The day spa is available for an indulgent treat. The Club is an exclusive lounge for Club level guests. All guests can experience a swimming pool with a 55-metre water slide and a wide range of activities such as tennis, water activities, squash and archery. For business visitors, function room facilities accommodate up to 110 delegates who can experience all the benefits of a leisure resort while they do business. Visit http://www.outriggerthailand.com.
About Outrigger Enterprises Group
Outrigger Enterprises Group is one of the largest and fastest growing privately held leisure lodging, retail and hospitality companies in the Asia Pacific and Oceania regions and continues to expand its presence throughout the area. A family-owned company with 66 years of hospitality experience, Outrigger runs a highly-successful, multi-branded portfolio of hotels, condominiums and vacation resort properties, including Outrigger® Hotels & Resorts, OHANA® Hotels & Resorts, Embassy Suites®, Holiday Inn® Best Western®, Wyndham Vacation Ownership® and Hilton Grand Vacations. Currently, Outrigger operates and/or has under development 45 properties with approximately 11,000 rooms located in Hawaii; Australia; Guam; Fiji; Bali; Thailand; Mauritius; Vietnam; and Hainan Island, China. Outrigger Enterprises Group also operates and develops hotel properties and hospitality-related retail and real estate opportunities for partners in Hawaii, the Pacific and Asia. For online information, log on at http://www.outriggerenterprisesgroup.com and http://www.outrigger.com.
About Savitar
Savitar Pte Ltd was founded in 1999 with the mission to provide the best tennis coaching services in Singapore and the region, delivering well structured, personalized tennis programs that foster consistent improvement in skills and greater enjoyment of the game. Savitar has since developed world-class tennis programs at a number of the best locations in Singapore, including fine clubs, leading hotels, and top schools. Savitar's tennis programs cater to all ages and abilities, ranging from 10 and under programs using customized equipment to junior elite training and tennis camps. Savitar also provides ladies' clinics, men's tennis, corporate workshops and team training while managing a variety of club competitive and social events. The company believes in long-term partnerships and has served clients at several of its locations for well over 10 years.
In 2009, Savitar established the KLM Junior Team Tennis League (JTTL) to provide junior players with the opportunity to gain valuable match play experience, improve competitive performance, and develop life skills such as teamwork and sportsmanship. With over 280 participants and over 40 teams competing, the JTTL continues to build on its success and in 2010 JTT Mini was launched to offer an exciting tennis competition for 5-8 year olds using mini tennis nets and lower compression balls, improving young players' technique, performance, and enjoyment. The JTTL is sanctioned by the Singapore Tennis Association and we expect to develop additional events in future to further enhance match play opportunities for players in Singapore. http://www.savitargroup.com
Media Contacts:
Nancy Daniels, APR
Director of PR
Outrigger Enterprise Group
Tel: +1 808 921 6839
Email: nancy(dot)daniels(at)outrigger(dot)com.
Napaporn Phandee Marcom
Manager
Outrigger Laguna Phuket Beach Resort
Tel: (+66) 76 360 600
Email: marcom(at)phuketbeach(at)outrigger(dot)co(dot)th.
Website: http://www.outriggerthailand.com
Media Contact, Asia
Ken Scott
ScottAsia Communications
Mobile: (+44) 7572 027264
Email: kens(at)scottasia(dot)net