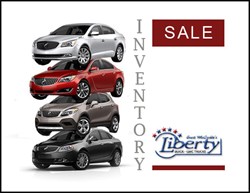 Charlotte, NC (PRWEB) February 13, 2014
It's the beginning of the year and already car dealers are squawking about too much inventory. From a consumer's point of view, too much inventory on the back lot can be a financial win fall since the dealership and the manufacturer typically piggyback on incentives to move cars out. But consumers beware, not all dealers are feeling the pain of a lot filled with extra inventory, but will use this bait and switch tactic to get the local buyer into the showroom. Scott McCorkle, owner of Liberty Buick GMC in Charlotte, wants the buying public to know how to really tell if inventory problems truly exist at advertised dealerships.
"Inventory piling up can be a real problem at a dealership," says Scott McCorkle. "However, it's oftentimes an overused cliché in our industry and consumers think they're getting a deal when they really are not. We want the consumer to know when they're getting a deal and when they are not."
There are many reasons why a dealership can experience a huge car pileup on the back lot. "Mother Nature, especially this year has affected the economy at large, and specifically the auto dealership with very few people shopping for cars on snowy days," says Scott McCorkle. "Dealerships also take bank loans out to put a variety of models on the showroom floor giving for buyers options to choose from. Selling cars in a timely manner saves the dealership money. These are just a few of the reasons why consumers are hearing about excess inventory in car ads already."
As soon as the tires of a new car hit the lot of a dealership, consumers will typically find its availability on a dealer's website. Since it costs money to have a car on the lot for any period of time, richer incentives and better deals are offered as time goes by. Scott McCorkle encourages buyers to do some online research on their local dealerships prior to walking into the showroom. Consumers would be wise to track and compare the number of cars dealerships have on their lots, and for how long they've been there.
Liberty Buick GMC invites the Charlotte community to stop in and check out the President's Day sale going on all month with huge incentives offered on many models. The President's day sale ends on February 28th. Liberty Buick GMC is located on 9028 East Independence Blvd. in Matthews.