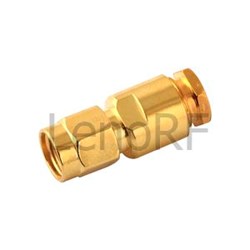 (PRWEB) February 14, 2014
Recently, LenoRF, a famous SMA product maker in the world, has announced its new range of SMA male connectors. To top it all, the company has started the special offer on all its high end connectors. Now, they are provided at discounted prices, up to 29% off. The promotion will be valid until February 25, 2014.
About The Company's Statement
The CEO of the company says that its SMA male connectors can be widely used in many industries. All the company's practical items s are made from the best materials.
What's more, the company has updated its website to show the detailed information about its newly released products. In fact, LenoRF is a professional connector manufacturer and retailer. The company has an area of 30 hectares with the existing building of 12,000 square meters; it is well equipped with the most advanced pieces of apparatus and equipment.
About The Hottest Designs
In the new selection, there are thousands of practical items. The most popular one is called SMA Connector male for RG-58 clamping. Here is some product description of it:
Impedance:50 ohms
Frequency Range: DC-18GHz (semi-rigid cable)
DC-12.4GHz (flexible cable)
Mating: .250-36 threaded coupling
Durability: 100 cycles minimum
Body and outer contacts: Brass, nickel or gold plated
Male Contact: Brass, Gold plated
Female Contact: Beryllium copper or phosphor bronze, gold plated
Crimp ferrule: Copper or brass, nickel plated
Insulator: LCP,PTFE or PFA
About LenoRF
LenoRF is a famous global manufacturer of coaxial connectors and cable assemblies. The company has been specializing in the industry for several years and it insists on providing effective turnkey solutions for radio frequency system. Its customers include worldwide OEMs, distributors and system integrators from various fields like broadcast, land-mobile, wireless communications, microwave market sectors and so on.
For more information, readers can visit http://www.coaxial-connector.com/product/sma-connectors-male-for-rg-58-clamping/.