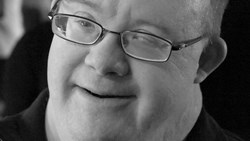 Shawn has blessed my family a hundredfold.
Owensboro, KY (PRWEB) February 14, 2014
The film "Shawn's Eyes" shows the relationship between Shawn and the Payne family, who spend every weekend together. Shawn is 41, cross-eyed, mumbles and is unable to live on his own. He also has an immense love of life, an infectious smile and an oft-sharp wit that the Payne family says they can't live without.
"This is not your typical love story or a story just about altruism or goodness," says Rev. Joshua McCarty, producer for Lolek Productions. "It's the surprisingly candid and sometimes shocking story of the simplicity, affection, and genuineness of a man who many would consider an outcast in our society."
"Shawn's Eyes" is just one of many videos in the developing "icon project" series produced by Lolek Productions.
The video is available at the Lolek Productions' website: http://lolekproductions.com/a-valentines-day-love-story-shawn-riney/.
About Lolek Productions
Lolek Productions is an independent film company that was created in May of 2011 in order to create high quality media as a part of the New Evangelization called for by Blessed John Paul II. Lolek Productions is located in Western Kentucky and operated by a Catholic priest, Fr. Josh McCarty and a board of directors. Beautiful images and powerful story are the hallmarks of Lolek Productions.