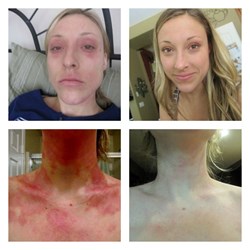 I just want to say I'm completely amazed by how many views this blog continues to get, and moreso, how fast ITSAN is growing, and how many people from all over the world are learning about Topical Steroid Addiction thanks to the amazing non-profit.
(PRWEB) February 18, 2014
Rochelle is very thankful for the International Steroid Awareness Network (ITSAN ) as she is one of many who joined their mission due to worsening eczema. She used topical steroids for about five years on and off for eczema that first appeared at age six. The brief use of the cream cleared it up but the eczema returned on her lips at age 16 so she used topical steroids again briefly and then again at age twenty due to a reaction from makeup applied on her eyelids.
Rochelle chased that outbreak with steroids until the rash developed on her lips which caused her to use steroids habitually at that point. She noticed the rashes only intensified after using more and more potent strengths of the medication. Eventually the cream stopped working and she was left with a rash that spread uncontrollably.
Feeling hopeless about her situation, she went to the internet to search for answers. To her surprise she found a patient led advocacy group for skin sufferers called ITSAN. The group at that time, comprised of over 600 individuals grappling with withdrawals from topical steroids after realizing they had developed a dependence to the strong drug used for various types of skin conditions.
Steroid induced eczema is also called "red skin syndrome" which is an iatrogenic illness caused by the medical treatment used to treat it. It typically starts with a prescription of topical steroids for eczema or other types of skin inflammation. Over time the condition becomes difficult to manage with the same prescription. The patient becomes addicted to the medication, exhibiting worsening symptoms when stopping it. Fortunately, the problem ends with complete cessation of topical steroids, although it is followed by a slow and painful withdrawal process that usually takes a year or longer to heal.
Rochelle was shocked when she learned her medicine was causing the problem.
"When I received the topical steroid from the doctor, I thought it was a harmless cream or moisturizer similar to what you buy over-the-counter, but stronger. After finding ITSAN, I read the fine print on my prescription closer. The label said, corticosteroids can suppress the HPA axis. My physician at the time failed to let me know exactly what that meant. Those symptoms are exactly what I and many others in the support group are suffering from right now. Symptoms like worsening and spreading eczema to body areas where we never applied the steroid before, hot, red skin, oozing, burning. The worst symptom of all was the itching. Incessant, crazy itching! Itching so bad you want to pull your hair out and scream atop the cliffs of the Grand Canyon! Itching that prevents you from sleeping at night, itching that makes you cry out for help!" Exclaimed, Rochelle. "I am so thankful to finally receive a correct diagnosis when I visited Dr. Rapaport."
Dr. Rapaport is a dermatologist who discovered and named it "Red Skin Syndrome" while working at UCLA'S dermatology clinic. Prior to this, a dermatologist by the name of Albert M. Kligman discovered steroid addiction in the late 1970s. Dr. Fukaya of Japan is also a pioneer doctor with regard to this condition and saw many patients in his clinic as well.
"Rochelle serves as a shining example for other ITSAN members to follow. While using topical steroids she unknowingly got addicted. She was once at a loss for answers on her condition like so many others in the ITSAN support forum. She found help and with determination and support, she endured the hellish withdrawal. After 19 months of patiently struggling with incessant painful and itchy symptoms, her body finally recovered and is fully healed. Now she helps guide new sufferers toward feelings of greater hope and optimism," said Kelly Palace, President & Co-Founder of ITSAN.
Rochelle started a blog called "Curing Red Skin Syndrome" to chronicle her recovery and to spread more awareness about this debilitating condition. Her blog has over 40,000 visits since starting it in 2011 and she also made this video of her journey.