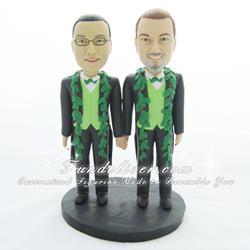 (PRWEB) February 14, 2014
Recently, UniqueWeddingCakeToppers.com, a reliable online shop of cake toppers, has announced its special offer on unique wedding cake toppers. All people can access a discounted rate in this great shopping season.
The unique wedding cake toppers from UniqueWeddingCakeToppers.com are featured with funny looks and delicate craftsmanship. What's more, the company also provides high quality gay wedding cake toppers, birthday party cake toppers and going away party cake toppers.
"We are now providing big saving on all our products. By launching such a promotion, we want to expand our online market in a short time. Our top experts will create special and totally personalized toppers that will surprise not only you but also your family and friends. All of them are works of art and made from the best materials," the CEO of the company sates.
Then he adds happily, "In the coming months, we will spare no energy to improve our skills and make more unique products for new and old clients. In addition to the discounted prices, all consumers can get a low shipping fee. The mission of our company is to create a memorable event for all clients. At our website, you don't need to spend a lot of money for your wedding."
About UniqueWeddingCakeToppers.com
UniqueWeddingCakeToppers.com is a famous online supplier of vivid cake toppers for weddings, birthday parties, going away parties and many other events. With an aim of making the events more interesting and memorable, the company often offers great savings on its special products. At its online store, customer satisfaction is among the top priorities.
More details about its funny items can be found at http://www.uniqueweddingcaketoppers.com/.