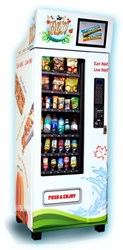 Chocolate is so good for the soul, it has to be good for the body
Vancouver, BC (PRWEB) February 13, 2014
We've all been excited to get chocolate on Valentine's Day, but chocolate has been, for many, a rare and forbidden treat. Major health information sources in North America such as the Mayo Clinic website and the Harvard Medical School's Healthbeat magazine now cite recent research related to the benefits of chocolate. In addition to mentioning any extra calories must be offset by either overall caloric reduction or sufficient exercise, they stress carefully choosing the type and amount of chocolate you eat, holding up dark chocolate as the prime example. Canadian Healthy Vending is pleased to have an expanded selection of premium chocolate items available for its Max! Healthy Vending Machines. Canadian Healthy Vending Operators choose from small and regional chocolate manufacturers who use only the choicest ingredients with healthy eating in mind.
Most would agree chocolate tastes great, but what makes scientists want to study it? The Mayo Clinic focuses on the connection between the cell damage thought to be caused by heart disease and the healing antioxidant power found in cocoa beans, from which good chocolate is made. The chemicals in cocoa beans with these effects are called Flavonols, and dark chocolate with a cocoa content of 65% or higher is thought to contain them in the most concentration. The clinic cautions that one should limit chocolate intake and more research is needed.
Healthbeat, a magazine from Harvard Medical School, also emphasizes the importance of moderating chocolate consumption, and suggests making sure the first ingredient on the label is not sugar, but rather cocoa or chocolate liquor. As well as mentioning lowered blood pressure and reduced chances of a blood clot, Heartbeat too pays particular attention to antioxidant properties, citing that although many foods contain Flavonols—such as cherries, apples and black tea—dark chocolate seems to contain them in the highest concentrations.
The bad reputation of this favourite Valentine's Day treat in the past was a reflection of the commonly available high-sugar, high-fat chocolate products seen in standard vending machines. Canadian Healthy Vending has premium chocolate brands with high cocoa concentrations available, like Green & Black's, Glutino (gluten-free), Terra Nostra (vegan) and Bumble Bar (gluten-free and vegan). These are just a few of the items that can be chosen through Canadian Healthy Vending's online Max! Menu System.
Edward Thompson, Vice-President of Canadian Healthy Vending, says "Chocolate is so good for the soul, it has to be good for the body—I'm not surprised science has been starting to support its cautious inclusion in our diet. I'm glad people on a variety of diets can enjoy the rich taste of chocolate through the premium products available for our Canadian Healthy Vending Machines."
About Canadian Healthy Vending
Canadian Healthy Vending is a Vancouver-based vending equipment manufacturer and distributor with over 23 years experience in the Canadian vending industry and is the manufacturer of the Max! Healthy Vending Machine. Our Mission is to get healthy snacks and nutritious drinks into the hands of Canadian workers and students in every city and province across the country. The state of the art Max! Healthy Vending Machine features both cash and cashless payment systems in addition to a high resolution display monitor, which provides nutritional information on product offerings, and information on community health initiatives. To get more information about Canadian Healthy Vending visit canadianhealthyvending.com. To find out how to get a Max! Healthy Vending Machine at your workplace go to our website.