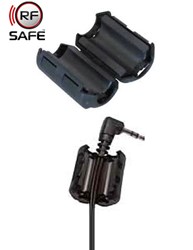 It turns out that a headset's wire can pick up microwave radiation that is transmitted from a cell phone and channels that radiation directly into a users head.
San Francisco, CA (PRWEB) February 13, 2014
RF Safe has posted on its website a list of states that require a hands-free device when using a cell phone while operating a vehicle, and points out something many people often overlook – cell phone radiation exposure.
Follow this link to view this list: http://www.rfsafe.com/states-require-hands-free-headsets-cell-phone-driving-laws-state/.
Millions of people with cell phones depend on a headset for driving safety. While others are concerned about health effects from wireless radiation have opted for using a wired headset instead of wireless headset to avoided "bluetooth" headsets – because Bluetooth technology transmits microwave radiation and could still be a health hazard at low levels,
Unfortunately, it turns out that a headset's wire can pick up microwave radiation that is transmitted from a cell phone and channels that radiation directly into a user's head. Professor L Barclay, in 2005 found that microwave radiation from the cellphone travels along the wire from where it plugs into the phone to where it connects inside the ear bud to an electronic speaker inside a user's ear. Barclay full report is found here http://www.mthr.org.uk/research_projects/documents/HFKFinalReport.pdf
RF Safe has a very simple and inexpensive way to reduce microwave radiation from traveling up a headset's wire into the brain. It's a special material composition, a ferrite bead. A ferrite bead is a small clip you put on the wire of a headset.
"Use of a ferrite bead placed around the HFK lead at a point beyond where the fields from the phone might induce strong currents in the HFK significantly reduces the induced SAR when using a hands-free kit." – Professor L Barclay 2005
The bead is designed to impede high frequency microwaves in the GHz range while allowing low frequency electromagnetic energy to pass through to operate the speaker to create sound in the Hz range.
According to RF Safe, low frequency energy is passed to the speaker to create the sound that reaches a user's ears, but potentially harmful high frequency microwave radiation from the cell phone is blocked.
RF Safe was founded over a decade ago in Aspen, Colorado. RF Safe is dedicated to evolving the wireless industries safety standards, by engaging in the business of design, testing, manufacture, and sale of safety technologies to mitigate harmful effects of cell phone radiation.
Coates started the company after the death of his new born child from a birth defect attributed to microwave radiation exposure from industrial communications radios when his wife was pregnant.
"He has spent a big part of his life teaching others how to reduce RF exposure in their lives, and he personally makes sure people have access to the best products on the market for RF protection. Even if that means something must be invented", said Cory Schop - Senior Director of Marketing at RF SAFE.
Ferrites are used in many consumer electronics to prevent interference from disruptive electromagnetic radiation. Ferrites do have limitations depending on the ferrites core composition the performance diminishes at frequencies higher than for what it is rated.
It's for this reason RF Safe suggest for the most prudent avoidance of RF radiation to use an air-tube headset. That way, there are no wires reaching a user's head, and the ferrite is added protection where the wire comes in contact with a user's torso.
"RF Safe's ferrite bead is especially important for women that are pregnant or trying to have children when the headset wire is unshielded and comes in contact with the body." says Coates.
RF Safe is offering clip-on ferrite beads for headset wires for only 3.99 each. These are the same ferrite beads selling on other popular websites for 14.95 and up. RF Safe has made it possible for a family of 5 cell phone users to shield their headsets for under $20 total. No limit, consumers can order as many as they like online here: http://www.rfsafe.com/product/rf-safe-headset-radiation-wireguard-clamp-ferrite-suppressors/.
Ferrite beads have become very popular for cell phone headset radiation protection with the endorsement of trusted medical professionals as seen in this recent video with Dr Sanjay Gupta on Anderson Cooper 360 discussing, Bluetooth headset radiation, air tube headsets and ferrite beads. http://www.rfsafe.com/cell-phone-radiation-safety-tips-dr-sanjay-gupta-anderson-cooper-360/
To learn more about the best new Smartphone accessories for cell phone radiation safety visit http://www.rfsafe.com