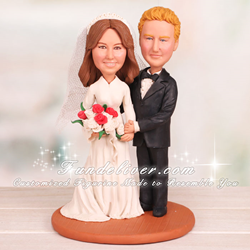 (PRWEB) February 16, 2014
Recently, UniqueWeddingCakeToppers.com, a leading supplier of cake toppers, has released its new unique wedding cake topper designs. At the company's product category, clients can find hundreds of special items, including vintage wedding cake toppers, Tattoo Cake Toppers, Family Wedding Cake Toppers, Army Officer Wedding Cake Toppers and so on.
In addition, all the newly released items of UniqueWeddingCakeToppers.com can be custom made. They are now offered at discounted rates. All the company's special products have common characteristics: secure materials, fine craftsmanship, and vivid figures.
As a matter of fact, UniqueWeddingCakeToppers.com has been working in the topper industry for years. The company hopes to create fun for all important events. It thinks customer satisfaction and service as the priorities. In the future, the company will stay focused on its product quality and sincere online service.
"We are excited to announce our new products. You know, wedding is one of the most significant events of one's life. Everyone wants to make their big days happy and interesting. We are here to help. All our wedding cake toppers can be customized according to the specific needs of different customers," the CEO of the company says.
About UniqueWeddingCakeToppers.com
UniqueWeddingCakeToppers.com is a famous online supplier of vivid cake toppers for weddings, birthday parties, going away parties and many other events. With an aim of making the events more interesting and memorable, the company often offers great savings on its special products. At its online store, customer satisfaction is among the top priorities.
More details about its funny items can be found at http://www.uniqueweddingcaketoppers.com/.