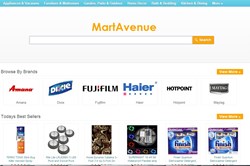 Find the best prices for thousands of products for Home Appliances, Garden Furniture, Tools, Pet Supplies, Beauty and Personal Care.
San Jose, CA (PRWEB) February 13, 2014
For price-sensitive buyers, Gupta Bros (Amit Gupta and Nitin Gupta) has developed a website called http://www.MartAvenue.com. MartAvenue consists thousands of products under various categories where the product price is being compared between major US retailers (e.g. Amazon, EBay, Wal-Mart, TigerDirect, Home Depot, Office Depot, Target and many more).
The major uniqueness of this website is that it not only shows the best price available among online retailers but also between offline retailers. A buyer can check whether to buy a product online or offline and from which retailers.
The current available categories are
1. Home Appliances and Vacuum Cleaners
2. Furniture and Mattresses
3. Garden, Patio and Outdoor
4. Home Décor
5. Bath and Bedding
6. Kitchen and Dining
7. Machine, Tools and equipment
8. Pet Supplies
9. Beauty and Personal Care
In most cases buyers can save anywhere between 10-30% by choosing lowest price seller (be it Amazon, EBay, Wal-Mart or any other retailer). It also shows the rating of the products based on user reviews. For example pet lovers can view and buy almost all the items for their starting from Apparel, Accessories, Cages, Food Items, Bed and Furniture to Collars, Harnesses and Leashes. MartAvenue is a place where you can buy anything at the best price available in USA. Also MartAvenue shows products from all major brands available in US including GE, Electrolux, Eureka, Keurig, LG, Aroma and Amana.
So if you are looking for Bosch - Evolution Ascenta 24" Tall Tub Built-In Dishwasher and think that its cheaper price at BestBuy; but in reality it may be cheaper at Amazon and you can find this intelligence on MartAvenue. This is one of the examples where buyer saves money on each purchase.
Start shopping and start saving on http://www.MartAvenue.com.