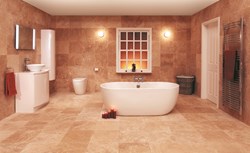 (PRWEB UK) 13 February 2014
With Valentine's Day (or, as the marketing department of my ever optimistic local restaurant have decided to call it, 'Valentine's Weekend') coming up, some of our thoughts are turning to romantic ideas. Now, there's nowhere in the home that screams 'intimate' quite the way a bathroom can – but all too often our bathrooms are functional spaces, lacking the softer touches and decorative flourishes that can make a room feel really romantic.
'How do I sort that out?', did I hear you say? Well, I'm glad you asked…
Short term changes
Creating a romantic bathroom for a single weekend is simply a matter of softening the harsh, practical edges of your space and flooding the room with a warm glow.
So, break out those candles (safely, please – make sure you put them in proper holders or at least on plates, as spills of hot wax could leave a permanent mark on your bathroom suite or floor, and won't do wonders for your skin either), pile up the fluffy towels, turn the thermostat up a notch or two (hang the electricity bill for once – this is romance!) and pour a couple of glasses of fizz.
Long term transformation
If you'd like your bathroom to become a more romantic space year round, here are our romantic ideas:
Add some heat
If you're happy to rip everything out and start completely from scratch, nothing adds more luxurious comfort to a bathroom (especially in the chilly winter months) than underfloor heating.
Choose either an electric or a plumbed system, make sure your choice of flooring is compatible with underfloor heating (most tiles and luxury vinyl will be ok; real wood flooring and some laminates could be a problem – check the manufacturer's recommendations before you buy) and pair it with an electric heated towel rail like our stylishly curved Regent Beta Heat Traditional Radiator (9383) so that you can enjoy hot towels when you want them as well as toasty warm toes.
Warm up your decor
Add interest to a white bathroom suite with some colourful decor: adding cosy colours to your room scheme is a great way to enhance its appeal. Red is the classic shade of romance, and there are so many tones to choose from that you're bound to find one to your taste.
Other romantic ideas include adding splashes of your chosen hue to a white or neutral backdrop, create a feature wall (behind the bath is usually a good place for a feature like this), or go for broke and colour-drench your room!
Invest in some 'together time' bathroom fixtures
If yours is a traditionally styled space, you could choose a traditionally styled roll top bath – what could be more romantic? Make sure you opt for a double ended model such as our Lisbon Freestanding Bath (9864): as solid and durable as it is beautiful, this bath will ensure neither of you end up sitting at the tap end!
Supersizing your shower could help you to share the space comfortably; some shower enclosures are large enough for twin shower systems, so are ideal if your showering preferences are incompatible with those of your partner. Or you could sidestep the confines of a traditional enclosure altogether: try using our 1850x1200mm wet room shower screen (8378) to create your own minimally styled yet opulently sized showering heaven.
And if you enjoy nothing more than a little bit of spa luxury, then why not opt for a contemporary whirlpool bath? Home spas are a great place to relax and unwind, and with our great selection of spa baths you'll be spoilt for choice.
We hope you enjoyed our guide on Romantic Ideas for the Bathroom, for more information or to purchase the products featured in this post don't forget to visit the Better Bathrooms website http://www.betterbathrooms.com. For more information about The Bath Bomb Blog please go to http://www.betterbathrooms.com/blog