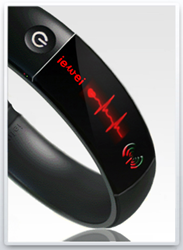 The iewei's wristband alerts wearers when the environment exceeds the radiation level harmful for their health to help them avoid getting body damaging radiations.
(PRWEB) February 13, 2014
This spring 2014, a new wristband is scheduled to be offered for wear to customers in the United States, Europe, and Asia. The iewei wristband detects measures and analyzes electromagnetic wave exposure and alerts wearers threatened by harmful radiation levels. iewei wristbands are being offered by a French new start-up company developed by an integrated network of multimedia and IT consultants. iewei was created to focus on technology that serves the purpose of well-being. The company's aim is to use science and technology for better health.
"We want to take advantage of advanced science and technology, and ensure we are safely protected against the consequences of radiation that can have a direct impact on our health. Our iewei wristband aims to protect human health by monitoring the daily exposure to radiation, because electromagnetic radiation is the emerging health problem of the 21st century," says Mr. Wei who graduated last year his Master in Mathematics in Paris and co-founder with Mr. Despallieres of the start-up.
Mr. Wei goes on to say that the company aims to provide in-depth knowledge, analysis and advice to global clients in the field of technology. "Our team's creative brilliance comes from a combination of solid backgrounds in such diverse disciplines as mathematics, information technology, and today's most advanced design systems."
Deemed a "smart system," wristband wearers are alerted when the environment exceeds the radiation level that is safe in any atmosphere. The slim, curved detector can be placed on different bracelets to match the colour of the wearer's mood. In addition, iewei wristbands also monitor heartbeats and body temperatures for an up-to-the-minute health check in real time.
As for stress monitoring, the iewei wristband gives a rounded view of high, medium or low stress based on your heart rate. If you're a little bit too stressed out, the bracelet will gently vibrate, warning you to calm down. iewei's app gathers all the data together to come up with useful actionable advice for your well-being. Over time, iewei's system gets smarter by learning what is best for you.
There is a growing concern that excessive electromagnetic waves can play a part in causing genetic damage, brain dysfunction, brain tumors, and other conditions such as sleep disorders and headaches.
Thousands of studies worldwide have shown that overexposure to EMFs can lead to weakened immunities, lowered resistance to bacterial and viral infections and devastating illnesses like cancer.
For anyone concerned about the health risk of the ubiquitous use of cellphones, smartphones and all other wireless devices (Today there are more than six billion cell phone users being exposed every day to the dangers of electromagnetic radiation), the iewei wristband helps to prevent the damage from invisible pollution due to exposure to an excessive amount of electromagnetic waves. Enough scientific evidence exists about the danger from WiFi and cell towers. Electromagnetic radiation can harm human health, and the dangers are all around us. "As much as I like the progress of the science and technology, I really think people should change the way they use all connected devices in order to take advantage of the progress but not to suffer from the consequences of radiation which has a direct impact on our health," says Mr. Wei.
The Council of Europe, the European Environment Agency, UK Trades Union Congress, the International Commission for Electromagnetic Safety, and the Russian Commission for Electromagnetic Safety, have also issued strong warnings about all technology that emits the type of radiation that WiFi does. That is the basis for creating iewei, the wristband that aims to protect the health of as many lives as possible.