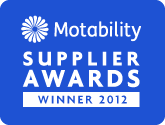 Drive the car you love with Autochair Car Adaptations.
Manchester, UK (PRWEB UK) 14 February 2014
The Inclusion, Independence and Choice (IIC) show will take place at the G-MEX exhibition centre in Manchester, UK.
The event is a super-sized mixed ability/disability exhibition for the general public, professionals and trade. The mission is to engage, promote and educate everyone about Inclusion, Independence and Choice.
Exhibiting on stand H49, in the "Mobility Car Showroom" section - Autochair will be showcasing a range of vehicle adaptations in a fully equipped Ford Grand C-Max for visitors to try out for themselves. At the heart of the event will be the new Autochair Liberty – A rooftop wheelchair carrier designed for drivers.
The Autochair Liberty has been purposefully designed to be independently driven by people with disabilities, whenever and wherever they need. The Autochair Liberty is simple to operate with the ability to load or unload a folding wheelchair or folding power-assisted chair in under 90 seconds. Operated with a wireless hand controller, its side-door opening technology means that less space is needed around the vehicle so that it can be parked in smaller, confined spaces. At just 21 inches high it is ideal for home garages, multi-storey car parks and parking locations with restricted heights. At just 48kgs, the Autochair Liberty is the lightest wheelchair rooftop carrier in the world and can confidently lift folding manual or folding powered assisted wheelchairs up to 35kgs or 77lbs. Its versatile design means it can fit on the majority of vehicle rooftop bars.
The Autochair stand will also feature a wide range of vehicle adaptations which together with members of the Autochair team will be on-hand to offer demonstrations, free help and advice. The stand will feature customer favourites; the Milford Person Lift and the acclaimed Olympian Hoist.
Commenting David Crowhurst, Marketing Manager at Autochair says,
"This event really ties in with what we are trying to achieve here at Autochair. The ethos and belief in universal design and taking responsibility for creating solutions that do not dis-Able people is something we hold dear. Our great designs work for everyone and excludes exclusion which is something that Autochair has worked hard to achieve in the last 30 years. This vision has contributed to Autochair being recognised with a distinguished national award as an accredited Motability Adaptation Partner. Our goal is to facilitate individuals with reduced mobility to "Drive the car they love" and this is something that the company embraces in every step of our new product development programme."
If you would like more information about the IIC event or Autochair products call 0800 988 0070.