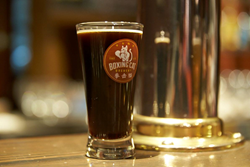 It's surprising that in nearly twenty years of brewing I've yet to use this ingredient. It's a very versatile fruit with some unique attributes," – Michael Jordan, Brewmaster, Boxing Cat Brewery
Wareham, Massachusetts (PRWEB) February 24, 2014
The U.S. Cranberry Marketing Committee (CMC) and the Boxing Cat Brewery of Shanghai, a leading craft beer innovator, celebrated the Chinese New Year, Year of the Horse, with the announcement of a novel Cashmere Cranberry Porter beer made with U.S cranberries.
The new brew is the result of a serendipitous meeting following a Food & Hotel China international trade exhibition in November 2013 between Brewmaster Michael Jordan and the Executive Director, Scott J. Soares, of the CMC. Through their mutual affinity for craft beer, their meeting led to discussions about innovative opportunities provided by U.S. cranberries.
"As a craft beer lover myself and after learning that Michael came from Oregon, one of the primary cranberry producing U.S. states, our conversation naturally turned to how we might work together to develop a U.S. cranberry beer," said Soares. "It's exciting to see how, in the very short time since our introducing U.S. cranberries to the Chinese market, we've already seen innovative applications that reflect the great diversity of the cranberry."
A shining and reportedly delicious example of the versatile applications of cranberries, the beer uses U.S cranberries and dark chocolate imported from Belgium that imparts a unique cranberry-tartness with a smooth chocolaty-sweetness. Imported malts used during the brewing process also contribute a note of caramel and a light roastiness balanced with the delicate use of hops that allows the cranberry and chocolate to shine through the aroma and finishing flavor, giving the smoothness of the beer a similarity to fine liquid cashmere.
"I'm very pleased with the result of Cashmere Cranberry Porter and see the potential to use cranberries in other beer styles. It's surprising that in nearly twenty years of brewing I've yet to use this ingredient. It's a very versatile fruit with some unique attributes," said Brewmaster Michael.
Framing the diversity and versatility of cranberries are a cornerstone to the introduction of U.S. cranberries to China. The cranberry can be used in both sweet and savory culinary spectrums – juiced, baked, dried, frozen, as a dessert, as part of the main dish, for breakfast, even in pill form. The ever-popular cranberry is a rich source of unique phenolic compounds that may help to maintain urinary tract and stomach health. Emerging research suggests that consuming cranberry products may provide additional benefits as well.
As a clear indication of the versatility of cranberries, Boxing Cat Brewery's Cashmere Cranberry Porter represents the first new cranberry product launched in China in 2014. And based on the highly positive atmosphere and reactions from CMC China partners, the January 22nd launch party provided great optimism and signaled a strong arrival of U.S. cranberries in China as the Year of the Horse galloped in. Cashmere Cranberry Porter will be a limited release beer, pouring through February at both Boxing Cat Brewery locations in Shanghai.
"I was delightfully surprised at hearing about this unique beer and thought it tasted great! Cranberries are very special and still relatively unknown in China. However, market development initiatives like this are very important to spread the word about cranberries across China and also help in finding new and creative applications for these natural and healthy products. The CMC is doing a great job in China," said Keith Schneller – Director, Agricultural Trade Office, Shanghai.
About the Cranberry Marketing Committee (CMC)
The CMC was established as a Federal Marketing Order in 1962 to ensure a stable, orderly supply of good quality product. Authority for its actions are provided under Chapter IX, Title 7, Code of Federal Regulations, referred to as the Federal Cranberry Marketing Order, which is part of the Agricultural Marketing Agreement Act of 1937, as amended. This Act specifies cranberries as a commodity that may be covered, regulations that may be issued, guidelines for administering the programs, and privileges and limitations granted by Congress. For more information about the CMC, visit uscranberries.com or follow @uscranberries and Cranberry Cravers on Facebook.