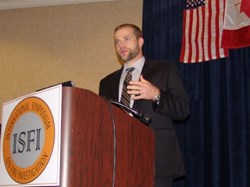 The job of an arson investigator is essential when it comes to determining the cause of any suspicious fire.
Richmond, KY (PRWEB) February 14, 2014
Greg Gorbett, associate professor in Eastern Kentucky University's College of Justice & Safety, was featured recently as one of the nation's "Top 15 Arson Investigation Professors" by ForensicsColleges.com.
The site says Gorbett, "having worked as both a firefighter and a fire and explosion analyst, is well-versed in the fieldwork necessary to become a successful fire investigator."
Gorbett, who teaches on campus, as well as in the EKU Online Fire, Arson and Explosion Investigation program, received the John Charles Wilson Scholarship from the International Association of Arson Investigators in 2006. In a "60 Minutes" segment on a deadly hotel fire that aired on CBS-TV in 2013, Gorbett was cited as one of the nation's "top five fire experts." Also last year, FireScience.org named the EKU faculty member in its list of the Top 10 Fire Science Instructors in the South.
ForensicsColleges.com based its rankings on the individuals' amount of field experience and arson investigation research, as well as the reputation of the institutions where they teach - noting that the best professors tend to teach in the best arson investigation programs. The group made every effort to recognize individuals who value the science and fact-based elements of arson investigation.
"The job of an arson investigator is essential when it comes to determining the cause of any suspicious fire," the website said. "Arson investigators may work for fire departments, law enforcement agencies, or even insurance companies. While most training was once done on the job, the tides have shifted toward more formal, academic training in investigative procedures and fire science."
EKU, a fully accredited, brick-and-mortar institution celebrating more than 100 years of student success, strives to make quality education accessible to everyone. EKU Online offers more than 20 degree options in a variety of fields, including Public Administration, Nursing, Occupational Therapy, Education, Psychology, General Studies, Paralegal Studies, Police Studies, Corrections, Juvenile Justice, Occupational Safety, Fire Protection and Homeland Security. For more information, visit http://www.ekuonline.eku.edu.