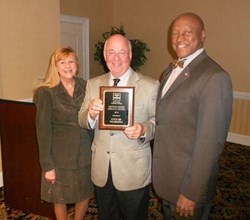 Valdosta, GA (PRWEB) February 14, 2014
The Valdosta Board of Directors for Easter Seals Southern Georgia hosted a staff appreciation and community awards event Tuesday Feb. 11th at the Holiday Inn Conference Center. Over 50 people were on hand to applaud the efforts of staff, volunteers, donors and supporters. Receiving awards were the following:
Distinguished service awards went out to:

Azalea Women's Club
Astro Exterminating accepted by Brett Jones
Scruggs Concrete accepted by June Lawson
City of Valdosta Planning and Zoning Director Matt Martin
City of Valdosta Manager Larry Hanson
City of Valdosta Mayor John Gayle and Mayor Pro Tem Alvin Payton
Other awards that were presented were the Valdosta Megan's House Employee of the Year, presented to Samantha Baker, and the Valdosta Direct Support Professional of the Year, presented to Vera Davis.
The City of Valdosta was recognized as was City Manager Larry Hanson and City Planner Matt Martin for the leadership roles that they have taken in supporting individuals with disabilities, particularly those who have transitioned from the developmental disabilities program at Rosehaven. Martin served on a panel at the recent Georgia Municipal Association Mayor's Day Conference and showcased best practices in city policies and procedures around fair housing. Hanson, whose career began with the city special needs recreation program, was featured on a soon- to- be released video produced by the Department of Behavioral Health and Developmental Disabilities that speaks to community inclusion of individuals transitioning from state hospitals. The City of Valdosta was recognized for its spirit of hospitality and engagement not only in its support of Easter Seals programs but all programs impacting the quality of life for its citizens with special needs. Easter Seals Southern Georgia is a non-profit organization that has been providing community support services in the 54 counties in southern Georgia. For more information about Easter Seals Southern Georgia, go to http://southerngeorgia.easterseals.com.