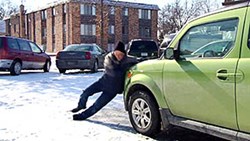 Novi, MI (PRWEB) February 13, 2014
As arctic weather continues to plague much of the United States, it serves as the perfect setting to revisit actions to remain safe during freezing conditions. Thousands of people are injured in slips and falls during winter each year. The easiest way to avoid injury is being knowledgeable in preventive actions to handle the slippery winter conditions. Mastery Technologies supplies a newly released course, video originally produced by Aurora Pictures, regarding safety precautions to prevent slips and falls in the winter, titled "Winter Walking: Staying on Your Feet." What better time to keep workers informed on these safety tips than during recent record-breaking, treacherous winter conditions.
This course reiterates common sense about slip and fall prevention, and serves as a great refresher on the basics to help increase awareness and prevent injuries. The course thoroughly covers topics such as:
•Adjusting to slippery conditions
•Winter walking hazards and how to avoid injury
•How to fall
Most falls occur in the winter time because majority of people do not adjust for the change in conditions. Whether working outside or just traveling through slippery conditions, it is imperative to plan ahead, pay attention, and slow down.
Not only is "Winter Walking: Staying on Your Feet," a newly released course, it is also available in Mastery's Advantage™ and Video On Demand (VOD) platforms. In the Advantage™ course, broadcast-quality production values are used along with frequent interactions, practice activities, and quizzes with reviews to ensure workers master 100% of the course's material. Mastery's VOD courses contain the entire instructional presentation of a training course. All of Mastery's VOD courses include a topical index, displayed on the side of the video when not in full-screen mode. Most VOD courses end with a quiz, including feedback on question answers. Video On Demand titles play on all devices, including desktops, smart phones and tablets.
Both formats of this course are available at the affordable price of $19.95 per learner. Volume pricing is available for employer purchases. For more inquiries on this course or other Mastery course platforms, visit Mastery.com.
About Mastery Technologies Inc.
Mastery Technologies established the e-learning industry's first Training Content Network. Mastery partners with leading video content providers to co-produce the largest, standardized, workplace e-learning library available. Mastery goes beyond connecting customers with content, by pro-actively supporting both customers and content partners. In this way Mastery fulfills its mission of helping build more successful, effective and amazing organizations.