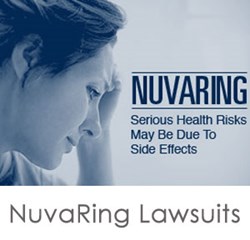 If you or someone you love suffered a blood clot, pulmonary embolism, deep vein thrombosis, heart attack, stroke or sudden death while using NuvaRing, visit yourlegalhelp.com, or call 1-800-399-0795
Columbus, OH (PRWEB) February 13, 2014
The NuvaRing attorneys at Wright & Schulte LLC currently representing women in NuvaRing lawsuits is consulting with their clients on whether to agree with the proposed settlement. According to Judge Brian Martinotti, Merck may pay a $100 million settlement to resolve up to 3,800 NuvaRing lawsuits filed on behalf of women throughout the U.S. who reportedly sustained serious NuvaRing injuries.
According to court documents, Judge Martinotti's preliminary approval allows this proposed NuvaRing settlement to proceed as long as at least 95 percent of the plaintiffs involved in this litigation agree to accept a settlement. If this acceptance rate is met and the proposed NuvaRing settlement moves forward, than each plaintiff can reportedly expect an award of about $58,000 for her claim, Bloomberg reports. If, however, more than 5 percent of the plaintiffs refuse to accept Merck's NuvaRing settlement, then Merck can withdrawal the offer, and these cases may proceed to trial (In re: NuvaRing Products Liability Litigation, MDL 1964, JPML).
Wright & Schulte LLC is currently representing numerous plaintiffs in NuvaRing lawsuits whose cases have been filed in federal and state courts in New Jersey and Missouri. The complaints for these cases all generally allege that the use of NuvaRing significantly increased women's risk of developing life-threatening blood clot disorders and that Merck failed to warn the public about these serious risks. In fact, a popularly cited study published in the May 2012 British Medical Journal (BMJ) found that women's risk of developing blood clots increased by more than six times when they used NuvaRing, rather than birth control pills. [bmj.com/content/344/bmj.e2990, March 2012]
Perspective on Merck's Proposed NuvaRing Settlement
According to Bloomberg, if this lump-sum NuvaRing settlement is accepted by at least 95 percent of the plaintiffs, Merck will end up paying only a fraction of what Bayer paid to resolve Yasmin and Yaz birth control lawsuits in 2013. Specifically, last year, Bayer reportedly paid more than $1.6 billion to settle Yasmin and Yaz birth control lawsuits, which – like the ongoing NuvaRing lawsuits – were associated with allegations that use of this contraceptive increased women's risk of developing blood clots and/or sustaining heart attacks and strokes.
Bloomberg further states, although Merck may be paying out this proposed NuvaRing settlement in the near future, Merck spokeswoman Lainie Keller was quick to point out that, under the terms of the settlement, Merck has not admitted to any wrongdoing and that the company still considers NuvaRing to be a safe and effective contraceptive.
[bloomberg.com/news/2014-02-07/merck-judge-says-company-to-pay-100-million-in-nuvaring-accord.html, February 2014]
Wright & Schulte continues to offer free NuvaRing lawsuit evaluations to anyone who has suffered serious complications allegedly due to the use of the NuvaRing contraceptive. For more information on filing a NuvaRing lawsuit, or to arrange for a free legal consultation, please visit yourlegalhelp.com, or call 1-800-399-0795.
About Wright & Schulte LLC
Wright & Schulte LLC, a leading personal injury firm, is dedicated to the belief that America's legal system should work for the people. Every day, the attorneys of Wright Schulte LLC stand up for the rights of people who have been injured or wronged, and fight tirelessly to ensure that even the world's most powerful corporations take responsibility for their actions. If you're looking for a law firm that will guarantee the aggressive and personal representation you deserve, please do not hesitate to contact Wright & Schulte LLC today. Free DePuy ASR hip replacement lawsuit case evaluations are available through yourlegalhelp.com, or call 1-888-365-2602.
Contact:
Wright & Schulte LLC
1-800-399-0795
http://www.yourlegalhelp.com