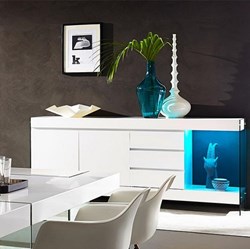 (PRWEB UK) 15 February 2014
Furniture in Fashion has announced that it is looking for players to partner in its furniture business.
With an aim to carve a niche in the field of furniture and create some innovative, hi-tech pieces for modern homes to suit all kinds of interior setting, Furniture in Fashion began to focus on new developments and introductions to the industry.
Furniture in Fashion has also introduced challenging modern furniture manufacturing techniques to impress their clientele, moving away from clichéd patterns and ensure eco friendly stylish, sophisticated, and affordable furniture design.
Almost sixteen fabulous years in the industry, the company is still committed to introducing novel concepts. The designs are meticulously planned, designed, and crafted under the adept guidance of skilled artisans. Years of success enjoyed by the company has been based on providing high quality German-manufactured furniture, shipped in directly from their 500,000 square foot warehouse in Germany.
Furniture in Fashion Franchise Opportunity
Furniture in Fashion understands a business runs like a family nourished and nurtured with communal reliability and teamwork. With the success of 60,000 square foot warehouse and showroom in Farnworth near Bolton, Furniture in Fashion announces its first franchised store.
Franchise Benefits Include:
Furniture in Fashion Franchise Opportunity

Successful business set up opportunity with highly experienced, hands-on owner
Environmentally sound concept
Immense potential for exceptional earnings
A choice for great lifestyle
100% back up and support from a experienced highly accomplished management team
Premier grade product ranges
Custom-built product range manufactured in company's warehouse in the UK
Simple business to operate successfully
Furniture in Fashion Franchise Opportunity
Presently, the company is looking forward to employ further competent compatible business people, partners, acquaintances, friends and individuals with strong sense of team building and passion to be an integral part of something really big. They would also wish to collaborate with dedicated individuals willing to work with others and are also self-motivated. No direct experience in furniture industry required! Interested individuals just need to prove their skill, commitment and determination to be a part of the company.
Wish to be a part of company's success story?
Furniture in Fashion continues to invest in the regular research and development of present product range and related products. These efforts have been keeping the company always at the cutting edge of modernism and expansion within their field.
The Franchise support team is all ready to guarantee that the most successful start to the franchisees. New Franchisees can also avail funding from Government based Enterprise
Loan Guarantee Scheme.
About Furniture in Fashion
Established way back in 1998, Furniture in Fashion is committed to produce only the finest quality home and office furniture to furnish interiors wisely. The pieces developed here will allow users to develop some wonderful memories at home with loved ones to cherish for a lifetime.